Sales Tip of the Week
Hello, my frazzled friends. Take a couple minutes to view our videos, read my commentary on this week's products, and even take our fun design quiz (at the end). You know you deserve this brief little break from your busy week. Plus, it's all business-related after all. Enjoy this edition and send your feedback directly to: khuston@asicentral.com. It may be published in a future issue of Advantages magazine. For free information on products featured in Advantages, click here: www.advantagesinfo.com.
– Kathy Huston, editor 
The Joe Show: 2010 Hot Products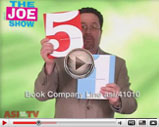 This time of year, Counselor Managing Editor Joe Haley is on the prowl for the hottest new products available in the market. In this episode of The Joe Show, he shows off some new items for 2010 that suppliers have recently sent to him. Check out the video, and grab your nearest pen and notepad to jot down ideas on the coolest new items for 2010.
Click here  to see this 2010 new-products edition of The Joe Show. 
Armed and Dangerous
The Pitch: You like to give your clients a helping hand, of course…why not the whole arm? This is a pretty funny idea if you ask me. Armagnets LLC (asi/32821) presents vehicle magnets that appear as the driver's arm. They can be customized for any team or business and would be great for special events too. Pricing starts at: 6; $26-P. See them here: www.armagnets.com.
The Bottom Line: It's just an illusion.
Freshen Up
The Pitch: I try not to eat any garlic- or onion-laden lunches down at the ASI Café, especially when there are afternoon meetings to follow. But sometimes, I can't resist. Ice Drops breath spray, in a variety of breath-refreshing flavors and on a custom leash, would do the trick. Brought to you by Leashables by Oralabs (asi/66715), these are a fresh idea for meetings, events, school, office and more. Pricing starts at: 100; $1.67-R. Go here: http://www.leashables.com.
The Bottom Line: Keep them hanging around.
Dual Personality
The Pitch: To go with the breath spray above, you could encourage your client to give a lip balm as well. Raining Rose Inc. (asi/80489) has a neat twist on your average lip balm, too. Pick two yummy flavors and they will put them in their handy, two-sided holder. These are swell, as mentioned, to accompany the breath spray at parties, events, trade shows and travel destinations. Very clever. Pricing starts at: 250; $2.10-R. E-mail mail@rainingrose.com and ask about this fun item.
The Bottom Line: Look at it from both sides.
A Growing Interest
The Pitch: Doesn't it seem like one day your kids are so cute and little, and then before you know it, they are big, goofy teenagers with a boatload of attitude? The canvas twill growth chart from FIEL-Fairdeal Import & Export (asi/53509) can't do anything to keep that attitude in check, but it will track a kid's height. This would be great for parents, pediatricians, the school nurse, etc. Plus, you can get it at end-column pricing until 3/20/10. Check it out: http://www.fiel.com/our-products/home-pets/home-accessories/cnd960.
The Bottom Line: Tall order.
The Dating Game
The Pitch: I don't know if you've checked out MTV's new reality show, JerseyShore, yet. I haven't, but I heard it's god-awful. However, I came across a "Jersey Shore Nickname Generator" online today, so just for fun (and since I'm a transplanted Jersey girl), I entered my name and found that I would be Kathy "The Appointment" Huston. Being that I am "The Appointment," I should really have a stylish day planner like item #76025 from Castelli USA (asi/44305). It's a tabbed mid-size daily planner with a nifty "Why you say it" feature that gives you the history behind why we say certain phrases. Pricing starts at: 50; $26.61-P. And I'll take mine in burgundy. Click here: http://www.castelliusa.com.
The Bottom Line: Pencil me in.

ASICentral: How Well Do You Know Designers?
Everyone knows pop icon Gwen Stefani ... lead singer of the 90's band No Doubt, successful solo recording artist, wife of Gavin Rossdale, mom. But did you also know she designs clothes?
Of course you did! But do you know who she's designed clothing for? A-ha! Bet you know a lot of designers, but the brands they've worked for might not be so obvious. So, we've come up with a game that tests your knowledge of designers. Introducing the ...

Got questions, comments or any type of feedback regarding anything ASICentral, don't hesitate to contact us at feedback@asicentral.com. Also, follow ASICentral at
.