Listen up, everyone: How would you like to spend an hour with me? Tomorrow from 2-3 EST, I'm moderating a great Webinar called "Learn to Really Listen to Make the Sale." Please tune in, so you'll be all ready to start the New Year as perfect listeners! Go here now to register: www.asicentral.com/webinars. After you do that, enjoy this edition. Send your feedback directly to: khuston@asicentral.com. It may be published in a future issue of Advantages magazine. For free information on products featured in Advantages, click here: www.advantagesinfo.com.
 
– Kathy Huston, editor 
The Joe Show: New Year, New Products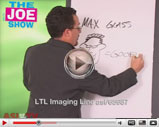 As 2010 dawns, it's time to look at some of the newest products available in the ad specialty market. In this episode of The Joe Show, Counselor Managing Editor Joe Haley shows off some new items for 2010 that suppliers have sent him recently. Check out the video, and get ready to wow clients with the latest and greatest.
Click here  to see this new-products edition of The Joe Show.

ADVERTISEMENT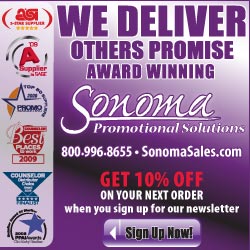 Brain Teaser
The Pitch: Chulani Promotional Products Inc. (asi/45100) has something for you to do the next time you're waiting forever at the Department of Motor Vehicles. Their puzzle cube keychain is just what it sounds like: A puzzle cube you can play with, attached to a keychain. These would be great for any auto-related promotion. Plus, the supplier is offering EQP on all products; just write espeq09n on your purchase order. See it here: http://www.chulani.com/products/612.htm.
The Bottom Line: Figure it out.
Go for the Gold
The Pitch: Here's a gift for all those Mr./Ms. Fix-its out there: A contractor-quality, gold-plated tape measure in a gold gift box from JC Marketing Advantedge Corporation (asi/62979). This is a nice idea for employee anniversaries, new homeowners, real estate agents, contractors, home improvement retailers and more. Pricing starts at: 60; $29.98-P. Look for item GOLD25x1 at: www.jcedge.com.
The Bottom Line: The champ.
Wake-Up Call
The Pitch: I'm a simple person and what makes me really happy in the morning is when I smell coffee brewing downstairs in the kitchen (my Steve is some brew master!). Well, what could be happier for all coffee lovers than Happy Coffee Company Premium Hawaii roasted chocolate macadamia nut ground coffee from Specialty Foods Hawaii (asi/88592)? Pricing for the 7-oz. packet starts at: 12; $7.25-T. E-mail Steve for more information (not my Steve; Steve Geimer): steve@hotsaucehawaii.com.
The Bottom Line: Fill your cup.
That's a Snap!
The Pitch: This is a cute little trade show giveaway or tee prize for all those Tiger wannabes (um, on second thought)...I mean for all those awesome golfers on your list. Pacific Coast Golf LLC (asi/75649) has a custom snap can with full-color imprint on can and lid. It also holds one custom Wilson Ultra Distance golf ball. Pricing starts at: 144; $6.65-R. You can see it here: http://www.pcgline.com/1ball-snap-can-wilson-ultra-distance.html.
The Bottom Line: Go the distance.
Pick Me
The Pitch: Hey, kids, these are all the rage, trust me. Steve Clayton Inc. (asi/45365) has custom celluloid guitar pick necklaces (item C-252-CHAIN1). These are a unique idea for concert promotion, special events, teen-related campaigns, music stores, and I've also seen similar items at my son's music school – good fundraising idea too. Pricing starts at: 300; $1.80-P. Click here: www.steveclayton.com.
The Bottom Line: 6-string sales.
This Just In!
ASI Radio has organized a charitable drive to benefit The G.I. Go Fund, an organization that assists soldiers upon their return to the U.S. Generous industry suppliers have donated high-end items — such as watches, digital picture frames, and iPod docking stations – to be auctioned off and the drive will culminate during the ASI Radio Show on December 15, starting at 10:30 EST. Bidding is now open on the items and you can do so now. Support a good cause and donate today. Click here to see the items and bid!