Sales Tip of the Week
Hi, again. It's just me, Kathy, bringing you more ideas to warm up your chilly December day. Well, that really depends where you are. Even in our Philly area it's not going to be chilly today, but that doesn't stop my son from asking when it's going to snow. If you're asking for some cool results as well, here you go. Send your feedback directly to: khuston@asicentral.com. It may be published in a future issue of Advantages magazine. For free information on products featured in Advantages, click here: www.advantagesinfo.com.

– Kathy Huston, editor 
The Joe Show: 2010 New Products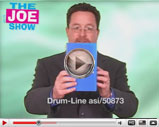 Want to wow clients with the latest and greatest in ad specialty items? In this episode of The Joe Show, Counselor Managing Editor Joe Haley shows off some new products for 2010 that suppliers have showered him with recently. Check out the video, and prepare your 2010 shopping list now. Click here to see this new-products edition of The Joe Show. 


ADVERTISEMENT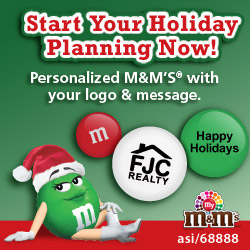 Here At Home
The Pitch: Big news! Well, actually it's smaller news: Americans no longer have the largest homes in the whole wide world. Australia has taken over that title, mate. But, no worries. It doesn't matter the size of your house, but the love it holds inside right? Awwww...anyway, any home, large, small or in between could use a fancy guest book, such as item 2752 from Peter Pauper Press (asi/77802). It's a burgundy, leather-like version with ribbon and it would also be a nice idea for B & Bs, hotels, clubs restaurants, special events and more. Click here: http://www.peterpauper.com.
The Bottom Line: Sign here.
Eight is Enough
The Pitch: An apple a day and eight glasses of water will do wonders for keeping the doctor away they tell me. KarSun Enterprises Inc. (asi/63973) has a unique new item that lets you know how much water you're taking in. Product #070201 is a clear acrylic coaster that tracks eight glasses of water with an easy-click dial. This is a great idea for home or office, as well as weight-loss and health-related programs. This is a patent-pending design too. Pricing starts at: 2500, $3.20-P. Go to: www.karsunenterprises.com, or email: ehouser@karsunenterprises.com for more information.
The Bottom Line: Drink up.
Hey, Cookie!
The Pitch: Here's a very cute idea for bakeries, restaurants, special events and party favors, school fundraisers and kitchen supply stores. Item AAI from Ann Clark Ltd. (asi/36355) is a cookie cutter attached to a recipe card with kitchen twine. It may be a custom design or one of 180 stock shapes. Pricing starts at: 500; $3; P. Click here: http://www.annclarkpromo.com/.
The Bottom Line: Cut it out.
Multitasker
The Pitch: The housewarming welcome gift caddy (item K910708110043) from Minimus LLC (asi/71357) includes 18 cleaning items packed in a handy caddy: paper towels, bathroom tissue, all-purpose cleaner, stain-treatment wipes, dishwashing liquid, laundry detergent, fabric softener, hand sanitizer spray, disposable cleaning cloths, sponge, mini duct tape and more. It's awesome for Realtors to give to new homeowners, landlords to tenants and show producers to participants on Clean House, which is currently the reality show I am most addicted to. (Really, how do those people live like that?) Another idea is for a maid service to give these out to clients (hey, they should be at least spot cleaning in between, right?). Pricing starts at: 20; $41.53-R. Go here: http://www.minimus.biz/default.aspx, or email: Sandra@minimus.biz for more information.
The Bottom Line: Clean-up crew.
The Crying Game
The Pitch: I went to see The Blind Side on Sunday night. I bawled! My husband pretended he wasn't getting the least bit teary-eyed, but then why were his eyes glistening and why did he keep clearing his throat in an attempt to get his act together? (Yes, I'm talking to you, Steve.) I used my popcorn napkins to wipe my sappy face, but a better choice would have been soft tissues from Martini Promotions' (asi/68935) convenient resealable folding packs. These are also a great choice for cold and flu season promotions. Pricing starts at: 2500; $2.47-R. Click on: http://www.crazycordz.com/usa/69.html.
The Bottom Line: Something to sneeze at.