Dental Delight
The Pitch: Nobody wants to go to the dentist (unless you're a masochist), so why not lighten things up for everyone? How about some classic wind-up, hopping fake teeth to bring a newly cleaned, cavity free smile to patients' faces? Well, look no further than Brighter Promotions (asi/42016), big proponents of letting the good times roll … or hop in this instance. Pricing starts at: 240; $1.20-R. Click here: http://brighterpromotions.com/.
The Bottom Line: All wound up.
ADVERTISEMENT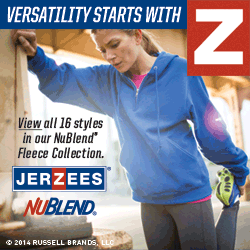 A Penny for Your Thoughts
The Pitch: Another awesome idea from Bloomin Promotions (asi/40646): Seed coins come letterpress printed in an organic muslin bag. They look like real coins, but are embedded with various types of seeds that will produce flowers, herbs or veggies in the garden. Definitely the ticket for incentive efforts, self-promotions, financial initiatives and eco-friendly events. Quarters are embedded with a mix of lettuce seeds. Dimes are embedded with carrot and turnip seeds. Nickels include a mix of basil, thyme, parsley, chive and oregano seeds, and pennies are embedded with a mix of wildflower seeds.   Pricing starts at: 250; $6.50-P. Check them out: http://bloominpromotions.com/ .
The Bottom Line: How does your garden grow?
All in the Wrist
The Pitch: This product from Gemline (asi/56070) is for the trendy gal on the go. The Lexi Wristlet Wallet comes in several colors of simulated leather. It provides a cute and convenient way to carry essentials for a day or night out. A zippered compartment can store a smart phone. The snap wallet compartment has an interior zippered change pocket, currency pocket and five card slots. It also has a wristlet strap, stylish interior and front pocket. It's gift-boxed and meets NFL guidelines, so think of this for football-related promotions, in addition to any type of women-related events. Pricing starts at: 24; $20.75-P. Click here: http://www.gemline.com/ .
The Bottom Line: It's sassy.
Foosball, You Bet!
The Pitch: Coming off the World Cup excitement, why not add a little fun to any executive-related promo with the metal travel foosball game from EMAX (asi/84114)? Of course, we can't bring you Tim Howard or any of those other soccer hotties, ladies (sorry), but we can still bring the good times for gals and guys alike. Pricing starts at: 50; $18.75-R. Scroll to product #262 by clicking here: http://emaxpromo.com/ .
The Bottom Line: Game on.
Wearables Top Decorator Hits The Campaign Trail!
The Wearables Top Decorator competition for 2014 is hitting the home stretch. Sponsored by Hanes Branded Printwear (asi/59528), this competition will test the technical and creative skills of screen printers with a series of challenges throughout the year.
The challenge for our October issue involves creating a "cool" shirt for a politician on the campaign trail using jumbo or oversize prints. The name of the politician (hypothetical or real) and imagery is up to your discretion. The winning company will receive a $200 Visa Gift Card courtesy of Hanes.
If you are interested in participating, contact Wearables Editor C.J. Mittica at cmittica@asicentral.com. Participants who sign up will receive further instructions and Hanes T-shirts to print on, courtesy of Hanes Branded Printwear. The postmark deadline for your printed submissions is Wednesday, August 20.