ADVERTISEMENT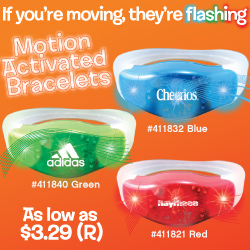 Go Long


The Pitch: Football season is coming up; in fact, the Eagles are playing the Patriots this week in pre-season fun. So what could be better for tailgating diehards than the

Koozball

from

US Poly Enterprises (asi/92868)?

 It's a drink cooler and also a foam football you can toss around before the game. You're sure to score some sales with this (get it?). For distributor pricing, call 800-274-1579. To see it in action, watch the video here: http://www.uspolyinc.com/.
The Bottom Line: Eye on the goal.


Rocket Man
The Pitch: If you're looking to help your client's business take off, suggest the metal rocket pen with base from Goodfaire Corp. (asi/57968). It's also a fun gift for employees who are out of this world. Come on, I'm sure you can thing of more punny slogans to go along with it. Pricing starts at: 50; $13.59-R. Check it out: http://www.goodfaire.com/.
The Bottom Line: Blast off.


Take Your Top Off
The Pitch: The stainless-steel push-down bottle opener with a magnetic cap catcher is perfect for bars, restaurants, tailgating, special events and more. It's from MyTopOff.com (asi/72790). To ask about custom options and pricing, call 801-792-4837. You can see a commercial for it here: https://www.mytopoff.com/.
The Bottom Line: Easy does it.