ADVERTISEMENT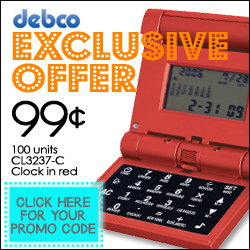 The Big Chill
The Pitch: Some like it hot, but others could use a break from the heat. I'm thinking athletes, construction workers, lifeguards, parents forced to take their kids to theme parks via relentless ads that entice kids (I'm looking at you Disney), and more. Look no further than Koolgator LLC (asi/65579), which offers cooling neck wraps. Just soak it in water for 15 minutes, no ice or refrigeration needed, and it keeps you cool all day long. For pricing and other info, click here: www.koolgator.com.
The Bottom Line: Take the heat.
Light It Up
The Pitch: My son Andrew's band Avenue (he plays the drums) played at a music festival this weekend. The event had sponsors, but there were no promo products, which to me is a travesty. Something like LED bracelets from PBX Promotions By Extreme (asi/63106) would have fit the bill perfectly. Pricing for these starts at: 250; $3.17-S. Click here to check them out: http://promotionsbyextreme.com/.
The Bottom Line: Accessory to sales.
Don't Miss Out
The Pitch: Did you know there's a phenomenon called fear of missing out, or FOMO? You know the types ... they say yes to everything and try to do everything, because they don't want to miss anything. Let's face facts, people: You can only be in one place at one time. And I think the place to be right now is in the valuable nonprofit arena. Not only will you be helping to create awareness for great causes, but you'll be helping your sales too. Right now, I'm loving the recycled bookmark with pink or red awareness ribbon design from All-in-One (asi/34256). It features a five-inch ruler and sticky notes and sticky flags. It's great for students, book lovers, and office workers alike. You can get it for as low as $1.25-R. See it here: http://www.allinoneline.com.
The Bottom Line: Mark your place.
Coffee Talk
The Pitch: Here's your fun fact of the day, courtesy of Buzzfeed.com: New Yorkers drink seven times more coffee than any other city in the U.S. I guess they have to stay alert so they don't miss their subway stop, etc. A nice cup of joe should be complemented by a nice travel mug. Logomark (asi/67866) offers item KM6410S, a 16-oz. steel mug, which converts from a flask to a handled mug. It's BPA-free and you can get it for as low as $10.95-C, with free 24-hour rush service. It's just right for commuters in any city or town. See it here: http://www.logomark.com/.
The Bottom Line: Get a handle on it.