stylus and screen cleaner all in one handy piece.

You can get it for as low as 99 cents (C). Of course this is perfect for all types of tech programs, schools and more. For more info, contact the supplier: 800-237-6305.
The Bottom Line: No nasty prints.

ADVERTISEMENT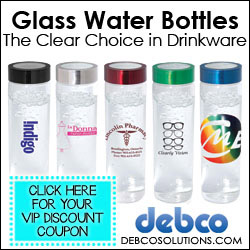 Fab Faux
The Pitch: It's almost back-to-school time, folks (ugh). So you're probably looking for some nice pens for all those students (and editors; don't forget about us!). Prime Line (asi/79530) offers plenty of options. I particularly like item PL-4423, the new Moxie pen, because it looks like an upscale metal pen, but it's actually plastic, which means it's about half the price. You can get it for as low as 39 cents (C). Plus, get free rush service and no minimums. Check it out right here: http://primeline.com/.
The Bottom Line: Fantastic plastic.
Spork It
The Pitch: This is perfect for both school and office ... in fact for anyone on the go! Item LB-20 from Gordon Sinclair (asi/57800) is The Gourmet mini collapsible silicone lunch container, with "Sporknife" included. I love that name ... Sporknife. It's microwave-, freezer-, and dishwasher-safe. It's priced as low as $8-R. See it here: http://www.gordonsinclair.com/.
The Bottom Line: You can take it with you.
Stylish Shopping
The Pitch: All shopping totes are not created equal. If you're looking for something a little more high-end, Leed's (asi/66887) has the answer. Item #3006-42 is the Nicole Quilted Shopper Tote, made from faux, high-gloss patent leather. Pricing starts at: $14.74-P. Any woman would appreciate this, so think of using it as a gift at retail. To see this snazzy tote, click here: http://leedsworld.com/.
The Bottom Line: For the fashionista.