| | |
| --- | --- |
| ADVERTISEMENT | ADVERTISEMENT |
I Wanna Live Forever
The Pitch: Are you singing that song (in your head or out loud) from Fame now? Anyone interested in longevity (and who isn't?) would appreciate that Groline (asi/58295) now offers their live ornamental bamboo handcrafted into a lattice form symbolizing longevity. Plants are 15-18 inches high. These are a unique idea for holiday gifts and pricing starts at: 6; $69.99. Check it out here: http://www.groline.com/.
The Bottom Line: Grow with it.
Starbucks Bucks
The Pitch: I already love all the products from Gifted Expressions (asi/56777) and to top it all off, this supplier recently announced an exclusive partnership agreement with Starbucks® to provide a special collection of Starbucks® Coffee-branded gift bundles filled with coffees, teas and assorted gourmet and chocolate food items. Gifted Expressions is now the exclusive supplier of this gift collection in the ad specialty industry and will offer special holiday packaging too. For more info, give them a call at: 877-982-4438.
The Bottom Line: Caffeine buzz.
Are You a Real Character?
Do your friends tell you that your personality is just like Liz Lemon from 30 Rock? Cristina Yang on Grey's Anatomy? Michael Scott on The Office? If your personality matches that of a TV character, we want to hear from you. Advantages is bringing you some sales secrets from primetime TV. We'll even give you some do's and don'ts for each personality as it relates to sales! So, put on your thinking cap and tell us if you're Snooki, Seinfeld or Dr. House or if you know of a colleague who is. Send an e-mail ASAP to Staff Writer Jennifer Vishnevsky: jvishnevsky@asicentral.com.
Nominate the SGR Supplier Sales Rep of the Year!
Supplier Global Resource, the industry's only magazine dedicated to ad specialty suppliers, is holding its 2nd annual Supplier Sales Rep of the Year contest to recognize outstanding performance, exemplary service and top-notch professionalism.

Distributors, do you work with a supplier sales rep who's gone above and beyond for you this year? Do you have a supplier partner who always puts you and your customers' needs first and has a "do whatever it takes" attitude to make you shine? If you know the perfect contender, e-mail the nominee's name and details regarding what makes him or her award-worthy to Michele Bell (mbell@asicentral.com), editor of Supplier Global Resource, by Friday, September 16, 2011. The winner will be profiled in ASI's magazines and get to bask in his or her own fabulousness for the year!
PRODUCT SPOTLIGHT
NEW! USB Sticks from AZX Sport ASI/30250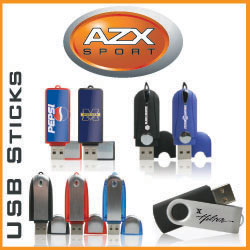 Features: 512MB - 16GB memory size available. Large variety of
colors and shapes. Ability to pre-load files onto USB.

Construction: Full color domed, Laser engraved
and pad printing available.

Lead Time: 1-3 business days on stock USB. 10 business days on
non stock USB. Minimum order 25pcs.

Orders and Art: Info.Advantages@aztex.com

Quote Requests: Info.Advantages@aztex.com

Visit www.azxpromotions.com to see our full line of products.

Or call 1-800-558-4836
CALL FOR QUOTE!
For other new and creative products, visit the Product Central section on ASICentral.com.