| | |
| --- | --- |
| Keeping you in the loop on products and deals you may not have heard about. | August 10, 2011 |
SPONSORED BY


ADVERTISEMENT


Hi, everyone! It's a beautiful day here in the suburbs of Philly. And one day closer to my vacation, which makes it even more beautiful, ya know what I'm saying? Enjoy this beautiful edition and be forewarned; I have included videos for two catchy tunes that might get stuck in your head. Enjoy! Send your feedback directly to: khuston@asicentral.com. It may be published in a future issue of Advantages magazine. For free information on products featured in Advantages, click here: www.advantagesinfo.com.

PRODUCT SPOTLIGHT

PRODUCT SPOTLIGHT



Hang-Ups


The Pitch: Do you know that Andrew Hughes, the sales manager at

IDPaspinline (asi/62088)

sings aloud and dances at work at least 4 to 5 times an hour? Yesterday I tried to get him to teach everyone in the office how to Dougie (http://www.youtube.com/watch?v=Iz1FsGSjgy8), but I don't know if he did or not. What I do know is that any gal would appreciate this supplier's

new portable purse hanger

, which will save many a purse from picking up gross, disgusting germs. Pricing starts at:

100; $4.98

. For more information, or to ask Andrew what he's dancing to today, e-mail: sales@idpaspinline.com. See this cool hanger here: http://bit.ly/o92ueM.
The Bottom Line: Give 'em the hook.

At Your Service
The Pitch: Yesterday, we had special surprise guests on our radio show: Chris Blakeslee and Hank Harrell from Broder Bros. Co. (asi/42090). To listen to their great tips and insight on apparel, click here: www.asicentral.com/radio. Well, I just edited a great article on the bar and restaurant market (it's booming, probably due to all the people like my husband and me), and it just so happens that Broder has a new apron which would be perfect for these industries. It's made from 65% polyester/35% cotton twill and it's 24" long. It also comes in a variety of colors and pricing starts at: one for $9.96. You can see it (and the cute model wearing it) here: http://bit.ly/pmRR0U.
The Bottom Line: Tie one on.
| | |
| --- | --- |
| ADVERTISEMENT | ADVERTISEMENT |
ADVERTISEMENT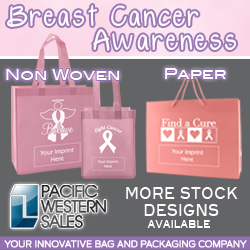 It's Time for Drugs
The Pitch: It's important to take your medicine in a timely fashion. The Dose-Alert from the aptly named Dose-Alert Corporation (asi/77811) is a patented, user-friendly pill reminder device that fits directly on top of any prescription bottle or pill case. The digital timer counts up from the time it is activated until it reaches its alarm set point and then beeps loudly for 20 seconds. Hot targets include health care and seniors. Pricing starts at: 200; $3.57. Read all about it here: http://www.dose-alert.com/.
The Bottom Line: Time's up.
Sweet Deal
The Pitch: Everyone loves lollipops. There's even a song about them: http://www.youtube.com/watch?v=3rYoRaxgOE0. And it just so happens that Kencraft Candy (asi/64233) offers handcrafted lollipops with four-color imaging. These are fun for any industry and any occasion, especially birthdays and anniversaries, product launches, trade shows and wedding and birth announcements. Pricing starts at: 192; $2.68. Click here: http://64233.asisupplier.com/.
The Bottom Line: That's tasty!

PRODUCT SPOTLIGHT
NEW! USB Sticks from AZX Sport ASI/30250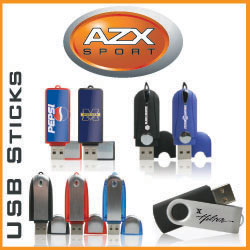 Features: 512MB - 16GB memory size available. Large variety of
colors and shapes. Ability to pre-load files onto USB.

Construction: Full color domed, Laser engraved
and pad printing available.

Lead Time: 1-3 business days on stock USB. 10 business days on
non stock USB. Minimum order 25pcs.

Orders and Art: Info.Advantages@aztex.com

Quote Requests: Info.Advantages@aztex.com

Visit www.azxpromotions.com to see our full line of products.

Or call 1-800-558-4836
CALL FOR QUOTE!
For other new and creative products, visit the Product Central section on ASICentral.com.
Advantages is bringing over 60 top suppliers to a city near you.
Come to the industry's largest and most popular traveling show, the ASI Advantages Roadshow. For a list of cities and dates, visit http://advantagesroadshow.com/. Admission is free for all distributors and salespeople!
SPONSORED BY


Advantages™ Hot Deals is a trademark of the Advertising Specialty Institute. You were sent this newsletter as a benefit of your ASI membership. Copyright 2011, ASI. All Rights Reserved.
If you'd like us to send Advantages Hot Deals FREE to anyone else at your company (or to your off-site sales reps), go to www.asicentral.com/newsletters and complete the online form.
Interested in advertising in Advantages Hot Deals? Send an email to ekoehler@asicentral.com
Click here to subscribe to Advantages™ magazine. If you no longer wish to receive Advantages HotDeals Newsletter, click here
Advertising Specialty Institute®, 4800 Street Road, Trevose, PA 19053