| | |
| --- | --- |
| Keeping you in the loop on products and deals you may not have heard about. | August 3, 2011 |
SPONSORED BY


Hi, everyone! What are you up to today? I'm up to writing this, editing September Advantages and also the "Sell This Product" supplement that will be mailed along with it. Be on the lookout! And let me know what you think of our August issue, which you should be getting this week. Thanks and enjoy this edition, but first, take a look at the video


Sales Tip of the Week
"Sales Tip" from the Chicago show, where my buddy Nicole Rollender shares apparel finds and ideas from the floor. And don't forget: khuston@asicentral.com. It may be published in a future issue of Advantages magazine. For free information on products featured in Advantages, click here: www.advantagesinfo.com.

– Kathy Huston, Editor





The Joe Show:
Holiday Gift Giving

The Joe Show: Holiday Gift Giving
In this episode of The Joe Show, Managing Editor Joe Haley proves that it's never too early to start thinking about end-of-year holiday time. Need some new ideas to present to clients for their holiday programs? Want to get a jump-start on your own holiday gift offerings? Check out the video for ideas.    

Click here to watch this new products episode of The Joe Show.

Want more videos? Subscribe now to our YouTube videos.

3D Dazzle
The Pitch: One of my favorite sales reps here at ASI is Jeannine Garrison and yesterday she alerted me to one of her client's way-cool new patented imprinting technology. Beyond Manufacturing (asi/37783) now offers metal emboss graphic imprinting, which allows cups to be printed with vivid, full-color images on a metal surface and finished with a precision embossing process. The result is near-3D-quality imagery. These are fun and unique for sports teams, entertainment groups, theaters, stadiums, concerts and, of course, beverage promotions. Pricing on the 10-oz. size (they come in a variety of sizes) starts at: 24,000; $0.83. Click here: http://www.bmfgintl.com/.
The Bottom Line: Drink up.

ADVERTISEMENT

ADVERTISEMENT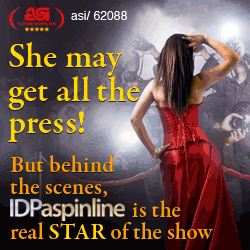 Lemonade Stand
The Pitch: The other evening we passed a lemonade stand and I didn't have any money (and I'm sure they didn't take credit cards) and Steve told me he already passed by the cute little boys and gave them a thumbs-up (but didn't buy anything either). Isn't that mean? But nobody – not even Steve – will be able to resist the instant pink lemonade packets from Richard's Gourmet (asi/82351), especially since your clients will be giving them away for free. Each packet makes one glass and pricing starts at: 144; $1.17. These are perfect for trade shows, county fairs, "stirring things up" and more. Click here: http://www.richardsgourmet.com/.
The Bottom Line: A cool, refreshing treat.
Great White
The Pitch: You know it's Shark Week, don't you? Last night I happened upon "The Great White Invasion," and you know I won't be going in the ocean, even when I go to Ocean City, MD the week after next. This is a great white I can appreciate though. Item SS2-20 is a 20-oz., full-color stainless-steel white water bottle with built-in straw. It's from World Wide Lines (asi/98290). I'm thinking these would work for museums, zoos, other touristy venues and biking events. Pricing starts at: 75; $13.20. See the pretty colors here: http://worldwideline.com/products/.
The Bottom Line: Straw poll.
Cheese Please
The Pitch: I was reading "A Beginner's Guide to Assembling a Cheese Plate" online today (hey, I am very well-rounded). Neither Velveeta nor that spray cheese in a can was involved. I do love this serving platter from Peggy Karr Glass (asi/63949) and think it would be a perfect accent to your perfect pairings. Item WH11P is an 11-inch wine-and-cheese-themed art glass plate, handmade in the USA. It's food-safe, microwave-warming and dishwasher-safe. Each item is studio signed and individually boxed. This is awesome for holiday gifts. Pricing starts at: one; $58. See it here: http://www.peggykarrglass.us/wh11p.html.
The Bottom Line: The artsy type.
Advantages is bringing over 60 top suppliers to a city near you.
Come to the industry's largest and most popular traveling show, the ASI Advantages Roadshow. For a list of cities and dates, visit http://advantagesroadshow.com/. Admission is free for all distributors and salespeople!
SPONSORED BY


Advantages™ Hot Deals is a trademark of the Advertising Specialty Institute. You were sent this newsletter as a benefit of your ASI membership. Copyright 2011, ASI. All Rights Reserved.
If you'd like us to send Advantages Hot Deals FREE to anyone else at your company (or to your off-site sales reps), go to www.asicentral.com/newsletters and complete the online form.
Interested in advertising in Advantages Hot Deals? Send an email to ekoehler@asicentral.com
Click here to subscribe to Advantages™ magazine. If you no longer wish to receive Advantages HotDeals Newsletter, click here
Advertising Specialty Institute®, 4800 Street Road, Trevose, PA 19053