The Joe Show:
Strike A Pose
I am happily still on vacation, kids, but of course I wouldn't leave you hangin' without your Hot Deals! Enjoy! Send your feedback directly to: khuston@asicentral.com. It may be published in a future issue of Advantages magazine. For free information on products featured in Advantages, click here: www.advantagesinfo.com.

PRODUCT SPOTLIGHT


– Kathy Huston, editor 




Get Balmed
The Pitch: I just read that Russians will no longer be able to buy vodka from 10 p.m. to 10 a.m. Oh, the horror! For those who really like their taste of vodka all day long, Innopak USA (asi/62656) offers SPF 15 lip balm with four-color-processing digital laminated label, available in stock flavors like berry and French vanilla, but also in custom flavors like flavored vodka or beer. Of course, this would be great for bar and beverage promotions. Pricing starts at: 500; $1.02-R. Click here: http://www.innopackusa.com/.
The Bottom Line: Add some flavor.

Wake Up!
The Pitch: OMG, I need this for my kids (and to save my sanity), now that school will be back in session. The Flying Alarm Clock is from the clever folks at Think Geek (asi/91123) and here's how they hilariously describe it:"Wakes you up with a loud shrieking alarm coupled with a little propeller-driven key that leaps off your nightstand. To turn off the horrible racket, you have to get out of bed and retrieve the key. The propeller flies the key high into the air and off into some dusty corner. You have to force your sleep-addled brain into wakefulness, move your stiff legs and retrieve the key before the alarm goes off." That's classic. Pricing starts at: 100; $25.23-P. This is a fun idea for college-related promotions and school fundraisers. For more information on item #79171, email brett@thinkgeek.com.
The Bottom Line: Rise and shine.

ADVERTISEMENT

| | |
| --- | --- |
| ADVERTISEMENT | ADVERTISEMENT |
ADVERTISEMENT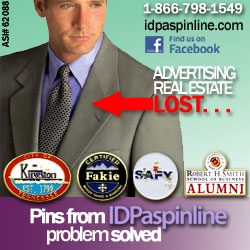 I'm Going to Collapse
The Pitch: Hey, here's a great idea for schools, sports, offices, gyms, events and more: a 16-oz. reusable bottle with cap that collapses for easy carrying. It's available in a variety of colors and fits easily into lunch boxes, gym bags, backpacks and briefcases. Plus it's BPA-free. The PopTite bottle is from E.S. Robbins (asi/51216). Pricing starts at: 5,000; $1.94-P. Check it out: http://esrconsumerproducts.com/.
The Bottom Line: Break it down.
Spooktacular
The Pitch: Halloween's a comin', trick or treaters! My son and his pals are applying to be ghouls and zombies at the local farm's Horrorfest for the season, which is funny, because he was the biggest scaredy-cat when he was little. Now he just wants to scare up some money. Use this season to scare up some money for yourself. American Ad Bag Co. (asi/35290) is offering EQP on 500 or more of their kraft Halloween shopping bags with a stock pumpkin design. Great for carrying your retail clients' goodies. Click here: http://www.adbag.com/.
The Bottom Line: Pumpkin profits.
PRODUCT SPOTLIGHT
NEW! USB Sticks from AZX Sport ASI/30250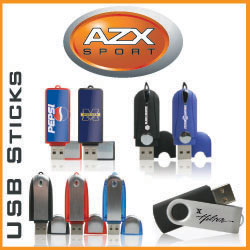 Features: 512MB - 16GB memory size available. Large variety of
colors and shapes. Ability to pre-load files onto USB.

Construction: Full color domed, Laser engraved
and pad printing available.

Lead Time: 1-3 business days on stock USB. 10 business days on
non stock USB. Minimum order 25pcs.

Orders and Art: Info.Advantages@aztex.com

Quote Requests: Info.Advantages@aztex.com

Visit www.azxpromotions.com to see our full line of products.

Or call 1-800-558-4836
CALL FOR QUOTE!
For other new and creative products, visit the Product Central section on ASICentral.com.
Advantages is bringing over 60 top suppliers to a city near you. 
Come to the industry's largest and most popular traveling show, the ASI Advantages Roadshow. For a list of cities and dates, visit http://advantagesroadshow.com/. Admission is free for all distributors and salespeople! 
SPONSORED BY


Advantages™ Hot Deals is a trademark of the Advertising Specialty Institute. You were sent this newsletter as a benefit of your ASI membership. Copyright 2010, ASI. All Rights Reserved. 
If you'd like us to send Advantages Hot Deals FREE to anyone else at your company (or to your off-site sales reps), go to www.asicentral.com/newsletters and complete the online form.
Interested in advertising in Advantages Hot Deals? Send an email to ddienna@asicentral.com
Click here to subscribe to Advantages™ magazine. 
Advertising Specialty Institute®, 4800 Street Road, Trevose, PA 19053