Sales Tip of the Week
Howdy! Buenas dias! Bon jour! Ello-hay! (That's my best Pig Latin right there.) Enjoy this edition. Send your feedback directly to: khuston@asicentral.com. It may be published in a future issue of Advantages magazine. For free information on products featured in Advantages, click here: www.advantagesinfo.com.

PRODUCT SPOTLIGHT


– Kathy Huston, editor 


The Joe Show:
Strike A Pose 

The Joe Show: Strike A Pose
In this extra-flashy edition of The Joe Show, Counselor Managing Editor Joe Haley shows off some of the trendiest cameras and picture frames the ad specialty industry has to offer. Looking to boost sales? Take your best shot with these hot products.

Click here to see this picture-perfect episode of The Joe Show.

Want more videos? Subscribe now to our YouTube videos.


Hey, Sweet Lips!
The Pitch: I know I write about this supplier a lot, but they are always coming up with something I love and I must have this: Chocolate lip balm made from real cocoa from Custom HBC Corp. (asi/47934) in collaboration with their Custom Chocolate subsidiary. Of course I might eat my lips off, but that's just me. Choose from White Chocolate Chai Tea, Milk Chocolate Mint Leaf, Dark Chocolate Cocoa Noir, Milk Chocolate Orange Truffle,White Chocolate Raspberry Tart, and Dark Chocolate Espresso Bean. Pricing starts at:

 250; $2.49-R.

Check it out: http://www.customhbc.com/.
The Bottom Line: Satisfy your chocolate cravings.
ADVERTISEMENT




Let's Meet


The Pitch: In yesterday's USA Today there was a report that hotels are booking more meetings and conferences this year, which is a coincidence. I just edited a feature article for your September issue of Advantages magazine on that very topic, so be on the lookout for how you can maximize your opps with this market. For one thing, think of some very cool products to present to meeting planners. Case in point: How about the

Hat's Off gift bag,

featuring snack items like smoked almonds, caramels and chocolate squares. It's from Gift Basket Experts (asi/42421). Upsell this item with an embroidered cap from a cap supplier and you've got a truly complete "hat's off" theme for sales conferences and incentive trips. Pricing starts at:

5; $13.58-R

. Click on: http://www.giftbasketexperts.com/.
The Bottom Line: Token of appreciation.

| | |
| --- | --- |
| ADVERTISEMENT | ADVERTISEMENT |
Tops in Pops
The Pitch: According to my in-depth research, which I always do for you fine folks, nobody knows exactly who invented lollipops. Some say cavemen, some say other ancient types, and some say they are a more modern concoction. But this much is fact: Lollipops are fun (can you really suck on a lollipop and not smile, or at the very least, feel less stressed?), and here's a fun idea: The Lolli-card from Mid-Nite Snax (asi/71685) is a custom card with lollipop attached. This is perfect for candy shops, trade shows, thank-you notes, product launches and more. Pricing starts at: 250; .53-R. Email: info@midnitesnax.com.
The Bottom Line: Sugary sentiments.
ADVERTISEMENT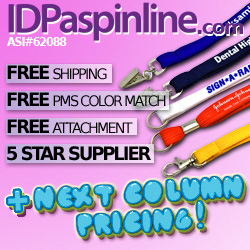 Turn It Down
The Pitch: My kids play in a band (drums and guitar with big, huge amps) and they practice in my basement. Do you know how many times I've yelled down to them to make sure their earplugs are in? "You're gonna blow your eardrums out!" Well, today I read this report online that one in five teens has hearing loss, which of course, I promptly emailed to them, with the subject line: "I told you so!" Seems like an ounce of precaution is a good measure for anyone who's exposed to very loud noises. Target Industries Inc. (asi/90640) offers an Ear Protection Kit, item #8090, with ear plugs in a pillow box. This would be a great idea for band members, auto and truck races and even travel, too. Pricing starts at: 250; $1.22-R. http://www.targetline.com/.
The Bottom Line: Noise-reducer.

PRODUCT SPOTLIGHT
NEW! USB Sticks from AZX Sport ASI/30250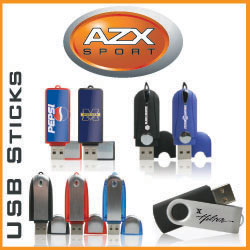 Features: 512MB - 16GB memory size available. Large variety of
colors and shapes. Ability to pre-load files onto USB.

Construction: Full color domed, Laser engraved
and pad printing available.

Lead Time: 1-3 business days on stock USB. 10 business days on
non stock USB. Minimum order 25pcs.

Orders and Art: Info.Advantages@aztex.com

Quote Requests: Info.Advantages@aztex.com

Visit www.azxpromotions.com to see our full line of products.

Or call 1-800-558-4836
CALL FOR QUOTE!
For other new and creative products, visit the Product Central section on ASICentral.com.
Advantages is bringing over 60 top suppliers to a city near you. 
Come to the industry's largest and most popular traveling show, the ASI Advantages Roadshow. For a list of cities and dates, visit http://advantagesroadshow.com/. Admission is free for all distributors and salespeople! 
SPONSORED BY


Advantages™ Hot Deals is a trademark of the Advertising Specialty Institute. You were sent this newsletter as a benefit of your ASI membership. Copyright 2010, ASI. All Rights Reserved. 
If you'd like us to send Advantages Hot Deals FREE to anyone else at your company (or to your off-site sales reps), go to www.asicentral.com/newsletters and complete the online form.
Interested in advertising in Advantages Hot Deals? Send an email to ddienna@asicentral.com
Click here to subscribe to Advantages™ magazine. 
Advertising Specialty Institute®, 4800 Street Road, Trevose, PA 19053