Ciao, bellas and fellas! Leaving this afternoon to bring my youngest son for his driving test. I know. OMG! I'll let you know how it goes next time. In the meantime, let's hit 

Sales Tip of the Week
the road with this edition. Send your feedback directly to: khuston@asicentral.com. It may be published in a future issue of Advantages magazine. For free information on products featured in Advantages, click here: www.advantagesinfo.com.

PRODUCT SPOTLIGHT


– Kathy Huston, editor 

Road Trip
The Pitch: There's a lot of chatter on ASI's Facebook page right now about what everyone's favorite road trip song is. Bruce, B52s, Bon Jovi and Journey seem to be big favorites. "Thunder Road" is a particular fave of mine, FYI ("you ain't a beauty, but hey, you're alright!" How could you not love that line?). This item from Hickory Farms (asi/60717) is also destined to be a favorite among roadies. Item #30208 is the Traveling Snacker. This soft-sided cooler comes packed with delectables for those who want to satisfy not only their wanderlust, but their appetites. You'll find sausage, cheese, crackers and mustard. This is a great loyalty reward and pricing starts at: one for $55-V. Click here: http://www.hickoryfarms.com/.
The Bottom Line: For any snack attack.

ADVERTISEMENT


Safe Driving
The Pitch: Speaking of my Andrew hopefully (I think) getting his license today, Promotional Slideguide Corp. (asi/79930) offers item CS-1071, the "10 Ways Parents Can Help Teens be Safe Drivers" e-z stick glancer. It includes the top 10 tips to teach teens sensible driving habits, such as avoiding distractions, obeying speed limits, and wearing a seatbelt. It has an adhesive back for posting where everyone can see it. This would be ideal for driving schools and licensing centers. Pricing starts at: 250; .48-Q. Email: orders@thepositiveline.com.
The Bottom Line: Parental guidance.
| | |
| --- | --- |
| ADVERTISEMENT | ADVERTISEMENT |
Good Buddy
The Pitch: Everyone needs a buddy, even your hoodie. Sunscope USA (asi/90075) announces a partnership with Jerry Leigh Apparel to exclusively offer the award-winning HoodieBuddie. It features HB3 Technology, which is patent-pending and allows the wearer to connect their MP3s into sweatshirts and other apparel through an input jack in the pocket and machine-washable drawstring earbuds. This has school and college market written all over it. Pricing starts at: 12; $45-R. Click here: http://www.sunscopeusa.com/.
The Bottom Line: We'll hook you up.
| | |
| --- | --- |
| ADVERTISEMENT | ADVERTISEMENT |
Hold Onto It
The Pitch: Don't go losing your pen. Item BP7900, the Snap Pen from Logomark Inc. (asi/67866) ensures that your pen stays safe and secure wherever you clip it, with its cool, patented carabiner. Perfect for school stores, office programs and more. Pricing starts at: 300; $1.40-P. Click here: http://www.logomark.com/.
The Bottom Line: Write home about it.

PRODUCT SPOTLIGHT
NEW! USB Sticks from AZX Sport ASI/30250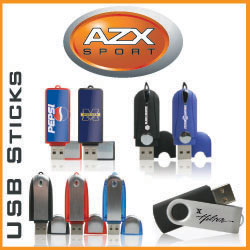 Features: 512MB - 16GB memory size available. Large variety of
colors and shapes. Ability to pre-load files onto USB.

Construction: Full color domed, Laser engraved
and pad printing available.

Lead Time: 1-3 business days on stock USB. 10 business days on
non stock USB. Minimum order 25pcs.

Orders and Art: Info.Advantages@aztex.com

Quote Requests: Info.Advantages@aztex.com

Visit www.azxpromotions.com to see our full line of products.

Or call 1-800-558-4836
CALL FOR QUOTE!
For other new and creative products, visit the Product Central section on ASICentral.com.
Advantages is bringing over 60 top suppliers to a city near you. 
Come to the industry's largest and most popular traveling show, the ASI Advantages Roadshow. For a list of cities and dates, visit http://advantagesroadshow.com/. Admission is free for all distributors and salespeople! 
SPONSORED BY


Advantages™ Hot Deals is a trademark of the Advertising Specialty Institute. You were sent this newsletter as a benefit of your ASI membership. Copyright 2010, ASI. All Rights Reserved. 
If you'd like us to send Advantages Hot Deals FREE to anyone else at your company (or to your off-site sales reps), go to www.asicentral.com/newsletters and complete the online form.
Interested in advertising in Advantages Hot Deals? Send an email to ddienna@asicentral.com
Click here to subscribe to Advantages™ magazine. 
Advertising Specialty Institute®, 4800 Street Road, Trevose, PA 19053