Knock, knock! (Here's where you say, "Who's there?") It's me, silly. Who else would be in your inbox with some super-hot ideas? Enjoy this edition. Send your feedback directly to:  khuston@asicentral.com. It may be published in a future issue of Advantages magazine. For free information on products featured in Advantages, click here: www.advantagesinfo.com.

PRODUCT SPOTLIGHT


– Kathy Huston, editor 

Raise the Flag
The Pitch: Did you know the word "fan" comes from "fanatic?" And "fanatic" means "marked by excessive enthusiasm and often intense uncritical devotion." There's your etymology lesson for today and now I suppose you want to know the meaning of "etymology." Well, look it up; as I tell my kids, I can't do it all. Anyway, to my point, fans are crazy and none more than sports fans. BamBams (asi/38228) offers another fun product to satisfy any sports fan's kookiness: hat flags that clip to your cap. Actually, they are great for all kinds of fans and special events. Item CDHFS starts at: 250; $2.03-R. Click here: http://www.bambams.com/.
The Bottom Line: We're number one!

A Fish Tale
The Pitch: All that watching of "The Deadliest Catch" has got them itching to go fishing and the boys have a big fishing trip planned for this Friday in Barnegat, NJ (the girls, of course, are lunching and shopping). Steve, my son, Andrew, my dad, my nephews and two bros-in-law are all going and let's hope nobody gets seasick. The color green is not a good look on anyone's face. Providence (asi/79980) offers the solution for fishing trips, cruises, travel agents, marinas, etc. Their cruise kit comes in a reusable pouch and includes two motion-sickness packets, two antacid packets, two pain-medication packets, two sunscreen packets, two after-burn packets, a lens wipe, lip balm, two bandage strips, and a disposable camera (so you can take a picture of the one that got away before it gets away). Pricing for item GK-140 starts at: 25; $16.50-R. See it here: http://www.providenceline.com/.
The Bottom Line: The whole kit and caboodle.

ADVERTISEMENT

| | |
| --- | --- |
| ADVERTISEMENT | ADVERTISEMENT |
That's Classic
The Pitch: According to research, listening to classical music helps you live longer (I'm going to tune in to the Classical channel on Music Choice right now!). One doctor notes that classical musicians, particularly conductors, live to ripe old ages. Sound Promotions (asi/88226) offers a great gift for executives, your best clients and all lovers of this genre, as well as those who can use some relaxation. Item VIP-01 is their VIP Classical Collection, a boxed set of four CDs. Pricing per boxed set starts at: 25; $25-R. Click here: http://www.pvtlabel.com/.
The Bottom Line: In tune.
Car Alarm
The Pitch: Word has it the auto industry is really revving up again. So, horn in on the action with this fun new product from Harvest Industrial & Trade Co. LLC (asi/61670). Item #25003 is a car-shaped pen that's very unique. Pricing starts at: 5,000; 0.35-T. Think of this for auto dealers, races, repair shops, garages and more. Check it out: http://www.zjharvest.com/.
The Bottom Line: Get in the fast lane.

PRODUCT SPOTLIGHT
NEW! USB Sticks from AZX Sport ASI/30250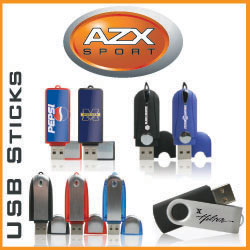 Features: 512MB - 16GB memory size available. Large variety of
colors and shapes. Ability to pre-load files onto USB.

Construction: Full color domed, Laser engraved
and pad printing available.

Lead Time: 1-3 business days on stock USB. 10 business days on
non stock USB. Minimum order 25pcs.

Orders and Art: Info.Advantages@aztex.com

Quote Requests: Info.Advantages@aztex.com

Visit www.azxpromotions.com to see our full line of products.

Or call 1-800-558-4836
CALL FOR QUOTE!
For other new and creative products, visit the Product Central section on ASICentral.com.
Advantages is bringing over 60 top suppliers to a city near you. 
Come to the industry's largest and most popular traveling show, the ASI Advantages Roadshow. For a list of cities and dates, visit http://advantagesroadshow.com/. Admission is free for all distributors and salespeople! 
SPONSORED BY


Advantages™ Hot Deals is a trademark of the Advertising Specialty Institute. You were sent this newsletter as a benefit of your ASI membership. Copyright 2010, ASI. All Rights Reserved. 
If you'd like us to send Advantages Hot Deals FREE to anyone else at your company (or to your off-site sales reps), go to www.asicentral.com/newsletters and complete the online form.
Interested in advertising in Advantages Hot Deals? Send an email to ddienna@asicentral.com
Click here to subscribe to Advantages™ magazine. 
Advertising Specialty Institute®, 4800 Street Road, Trevose, PA 19053