Greetings from my home office in Langhorne, PA! According to the weather lady this morning, tomorrow is the beginning of heatwave number seven this hot, hot, hot summer! On that note, here are your sizzling-hot ideas for today. Enjoy this edition. Send your feedback directly to: khuston@asicentral.com. It may be published in a future issue of Advantages magazine. For free information on products featured in Advantages, click here: www.advantagesinfo.com.
– Kathy Huston, editor 

Charmed, I'm Sure
The Pitch: So it's Saturday night and we're talking to this friendly, older, giant gentleman at the bar waiting for our table. Steve says, "That's Greg Luzinski (a.k.a., The Bull)." Of course, I had no idea who he was and thought the only reason he was wearing a huge, diamond-encrusted Phillies ring was because he was a big fan. Steve explained that, no, he is in fact a former baseball great. Yes, I am that clueless, people. One thing I'm not clueless about, though, is recognizing a much more affordable, cool, team-related piece of jewelry. That would be shoe charms from APF Marketing (asi/30214). Most laces slip through the aluminum charms, which can be imprinted with team and company names or logos. They would be ideal for spirit squads, athletes, runners, fundraisers, charity walks/runs and more. Pricing starts at: 250; $2.20-P. See them here: http://www.apfmarketing.com.
The Bottom Line: That's the spirit.

Round of Applause
The Pitch: Congratulations to Chelsea and Mark on their highly anticipated nuptials this weekend. I'm sure they would be very happy to know I was congratulating them in the famous Hot Deals e-newsletter. Clegg Promo (asi/45450) offers a fun way to congratulate anyone for any reason. Item ABC5150 is a hands-shaped greeting card/business card holder with applause sound and congratulations message. Pricing starts at: 100; $4.99-R. Click here: http://www.cleggpromo.com/.
The Bottom Line: The clapper.

Payment Plan
The Pitch: It's August 2. Hope you made your mortgage payment. Sunscope (asi/90075) offers the perfect product for mortgage brokers, Realtors, financial clients and then some. Item PEN2050 is their Mortgage Pen, with a patented PDA point and a monthly calculation guide. Pricing starts at: 50; $3.10-R. Check it out: http://www.sunscopeusa.com.
The Bottom Line: Add it up.

ADVERTISEMENT

ADVERTISEMENT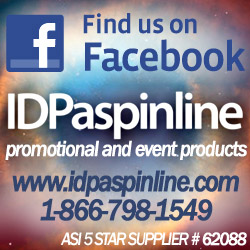 Share a Laugh
The Pitch: Today is my little niece's fourth birthday. She had a pony party with her friends this past weekend and we are going to the family party this weekend (yes, she is spoiled, but adorable). I bought her a laughing stuffed monkey, because it cracked me up. Laughter is contagious and it's a great stress-reliever, which is why Devara (asi/49470) offers item LG40, a laughing ball. Roll it in your hands and it laughs. "So," you ask, "what markets would I target for this product, Kathy?" How about any and all? It's great for school stores, employee promotions (morale booster, for sure), mental-health programs, trade shows, comedy clubs, and really anyone who should lighten up and not take life so seriously. Pricing starts at: 100; $3.15-R. Go here: http://www.devara.com/.
The Bottom Line: Leave them in stitches.
Advantages is bringing over 60 top suppliers to a city near you.
Come to the industry's largest and most popular traveling show, the ASI Advantages Roadshow. For a list of cities and dates, visit http://advantagesroadshow.com/. Admission is free for all distributors and salespeople! 
SPONSORED BY


Advantages™ Hot Deals is a trademark of the Advertising Specialty Institute. You were sent this newsletter as a benefit of your ASI membership. Copyright 2010, ASI. All Rights Reserved. 
If you'd like us to send Advantages Hot Deals FREE to anyone else at your company (or to your off-site sales reps), go to www.asicentral.com/newsletters and complete the online form.
Interested in advertising in Advantages Hot Deals? Send an email to ddienna@asicentral.com
Click here to subscribe to Advantages™ magazine. 
Advertising Specialty Institute®, 4800 Street Road, Trevose, PA 19053