Ladies and gentlemen, here it is ... your next edition. No "Sales Tip" video this week, since our video equipment is offsite, being used to cover some swanky photo shoot. However, from now on, I'll also be including videos of "The Joe Show," featuring my buddy Joe Haley, bringing you even more great ideas (see below). What more could you ask for? Well, there's a lot more you could ask for, but try not to be so greedy. Have a great week and enjoy! Send your feedback directly to: khuston@asicentral.com. It may be published in a future issue of Advantages magazine. For free information on products featured in Advantages, click here: www.advantagesinfo.com.

– Kathy Huston, editor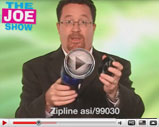 The Joe Show: Drinkware
In this episode of The Joe Show, Counselor Managing Editor Joe Haley features the latest and most creative drinkware products and ideas. Whether it's cups, mugs, bottles or tumblers, you'll be poised to sip sales success after watching this episode.
Click here to watch The Joe Show.
ADVERTISEMENT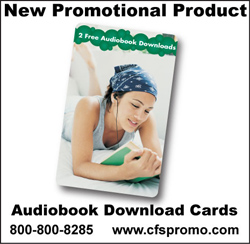 Drink Up (drink tag)
The Pitch: Don't you hate it when you come back from the bathroom and your half-finished, high-priced martini is gone? V-Cards Inc. (asi/93148) wants to make sure that doesn't happen again. The new supplier's patent-pending Drink Talkers are cards that hang on your drinkware, from martini glasses to beer steins to coffee mugs and more (they can even be used as bookmarkers). They say things like, "Please do not discard this drink...be right back," "It's my birthday," and "Please refill...regular." These cards would be perfect for bar and restaurant promotions, coffee shops and more. Pricing starts at: 100; .20-P. You can get more info by emailing: jeffrey.wallace@comcast.net.
The Bottom Line: Play your cards right.
ADVERTISEMENT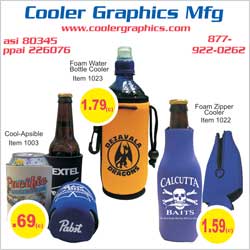 Dog Days (dog pedometer)
The Pitch: Every so often, I wave hello to this woman in my development who walks her dog in a baby carriage. I saw her this morning, in fact. I don't know if she's one of those nutty dog people who thinks it's a baby, or if the dog can't walk and she is simply a kind-hearted soul. At any rate, for dogs who can walk, Ariel Premium Supply (asi/36730) has a dog pedometer (WHF-DP08)...actually, they call it a "pawdometer." Good idea for vets, animal hospitals, pet stores, breeders, etc. The clip attaches to the dog's collar and it accurately tracks steps, adjusting for different dog sizes and gaits. Pricing starts at:100; $4-R. See it here: www4.arielpremium.com
The Bottom Line: No chubby puppies.
Put a Cork in It (frame/cork holder)
The Pitch: I think I still have a cork I saved from a wine bottle from our first date night out after our second son was born (15 years ago!). Luckily, that date night didn't result in a third child. Keeper Specialties LLC (asi/64173) has just the right product for sentimental types who like to keep such mementos. The Corkeeper photo frame can also hold a signed wine cork. Use these as unique gifts at any special event. Click here for pricing and other info: www.keeperspecialties.com.
The Bottom Line: For the good times.
Gotta Look Sharp (magnet mirror)
The Pitch: Very soon, kids all over the country will be sprucing themselves up for school picture day. Gill Studios Inc. (asi/56950) has a magnet mirror that would stick to their metal lockers and let them make sure nothing is stuck in their braces and tame those cowlicks before they assemble in the auditorium. Plus, they're on sale at: 250; $1.50-R. Write "3rd quarter savings" on your P.O. These are cool for school fundraisers, team events, college stores, salons, offices and then some. Click here: www1.gill-line.com. Expires 9/30/09.
The Bottom Line: Check you out.
Beary Adorable (holder for Tooth Fairy)
The Pitch: In my day, the Tooth Fairy stuck a quarter under your pillow and you spent it on candy that would make your other teeth fall out. I don't know what the going rate is now, but the Tooth Fairy Bear from Animal Fair (asi/36235) can hold any amount in its attached pouch. It's really quite cute and pricing starts at: 36; $7.42-R. Show this to pediatric dental centers and day-care centers. Check it out: http://36235.asisupplier.com/.
The Bottom Line: Dollars and cents.
Advantages is bringing over 60 top suppliers to a city near you. 
Come to the industry's largest and most popular traveling show, the ASI Advantages Roadshow. For a list of cities and dates, visit http://www.asishow.com/advroadshow/. Admission is free for all distributors and salespeople! 
SPONSORED BY


Advantages™ Hot Deals is a trademark of the Advertising Specialty Institute. You were sent this newsletter as a benefit of your ASI membership. Copyright 2009, ASI. All Rights Reserved. 
If you'd like us to send Advantages Hot Deals FREE to anyone else at your company (or to your off-site sales reps), go to www.asicentral.com/newsletters and complete the online form.
Interested in advertising in Advantages Hot Deals? Send an email to ddienna@asicentral.com
Click here to subscribe to Advantages™ magazine. 
Advertising Specialty Institute®, 4800 Street Road, Trevose, PA 19053