Sales Tip of the Week
Hi, there everyone! I hope you are one-tenth as excited to receive your "Hot Deals" as I am to be going to the "American Idols Live" tour tomorrow night. If you've been a reader of the Kathy Chronicles lo these many years, you know I'm a big fan. Perhaps you'll be a fan of the following products. Please click on my Sales Tip video first and then take a couple minutes to read this edition. Send your feedback directly to: khuston@asicentral.com. It may be published in a future issue of Advantages magazine. For free information on products featured in Advantages, click here: www.advantagesinfo.com.

– Kathy Huston, editor 
ADVERTISEMENT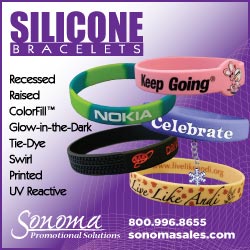 The Gift (spa package)
The Pitch: Last night, as I sat relaxing and taking in the summer air on my front porch, my cat (to my horror) dropped a half-dead baby possum at my feet. My screaming probably woke the neighborhood. They say that when cats do that they believe they are bringing you a gift, but my son says he thinks Sneakers just wants to see my reaction (very funny, Sneakers). A more appropriate gift, and one that will actually be appreciated, might be something from Gifted Expressions LLC (asi/56777). A collection I like is item S0827, a pomegranate spa package in a keepsake box. It includes shower gel, poof, soap, lotion, fizzers and tea. Pricing is $38.95-R for one. See it here: www.giftedexpressions.com.
The Bottom Line: Holiday solution.
ADVERTISEMENT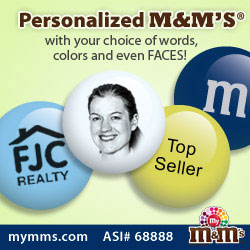 In Session (sanitizer)
The Pitch: Hard to believe, but it's almost back-to-school time again (for some, it already is). On the one hand, it makes me melancholy. I love the summer and the laid-back atmosphere. On the other hand, it sure will be nice not having my house and food supply overrun by teenage boys on a daily basis. Most would agree every student should have hand sanitizer in his or her backpack. Aloe Up Suncare Products (asi/34362) offers new, patent-pending, alcohol-free foam sanitizer, which they say works better to kill bugs while protecting the skin. Pricing starts at: Qty.-100; $3.50-R. Check it out: www.aloeuppromo.com.
The Bottom Line: Healthy start. 
A Sporting Chance (cooler/grill)
The Pitch: So Brett Favre is out of retirement again (third time's the charm?) and here in the Philly area, people are saying, "Hide your beagle, Vick's an Eagle." You can tell by the kerfuffle and controversy that football season is close at hand. No matter which players they're rooting for or against, one thing tailgaters can get behind is the Ultimate Tailgating Picnic Cooler from Bags First (asi/37974). It includes a stainless-steel spatula, and tongs, one stainless-steel fork and one tabletop BBQ grill. Pricing starts at: 50; $117.20-P. Click here: www.bagsfirst.com.
The Bottom Line: Burgers and a side of sales.
ADVERTISEMENT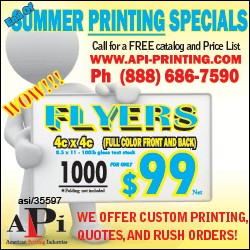 Roadie (car desk)
The Pitch: Here's a cool new product brought to my attention by Matt Canamucio, a super sales guy here at ASI (it just so happens to be his birthday too). The Laptopper, from appropriately named Laptopper (asi/57691), is a table/desk for your car that fits over the steering wheel. It's great for anyone who's always on the go. It's big enough to hold a laptop, but you can use it to eat your lunch, jot down ideas and fix your lipstick too. Pricing starts at: 50; $11.21-T. You can read all about this product and its innovative inventors, as well as view a video, complete with Willie Nelson singing "On the Road Again," at: www.thelaptopper.com.
The Bottom Line: Top it off. 
What's Your Hang-Up? (hangers)
The Pitch: Perhaps I'm shopping too much (my husband would say it is so), but why don't there ever seem to be enough hangers in my closets? This makes my case for recycled PVC hangers from Mac Specialties Ltd. (asi/68207). The entire surface and hook is imprintable with high-resolution, full-bleed imaging. Think about dry cleaners, hotels, clothiers, teams, schools and more as target markets. Pricing starts at: 25; $8-P. View them at: www.sportproducts.com.
The Bottom Line: Get hooked.
Attend the Virtual Trade Show
If you weren't able to make our Virtual Trade Show today, no worries. It will be archived online at: www.asicentral.com/vts. Be sure to check it out for great supplier offerings, education and more.

Advantages is bringing over 60 top suppliers to a city near you. 
Come to the industry's largest and most popular traveling show, the ASI Advantages Roadshow. For a list of cities and dates, visit http://www.asishow.com/advroadshow/. Admission is free for all distributors and salespeople! 
SPONSORED BY


Advantages™ Hot Deals is a trademark of the Advertising Specialty Institute. You were sent this newsletter as a benefit of your ASI membership. Copyright 2009, ASI. All Rights Reserved. 
If you'd like us to send Advantages Hot Deals FREE to anyone else at your company (or to your off-site sales reps), go to www.asicentral.com/newsletters and complete the online form.
Interested in advertising in Advantages Hot Deals? Send an email to ddienna@asicentral.com
Click here to subscribe to Advantages™ magazine. 
Advertising Specialty Institute®, 4800 Street Road, Trevose, PA 19053