Sales Tip of the Week

Hey, everybody! I'm back this week with my Sales Tip video…did you miss me, whilst our handy video equipment was away doing the Chicago ASI Show tour? Well, it's now safe and sound in our little studio, and thus I was able to tape some helpful advice for your inspiration. Please click on, enjoy and take a couple minutes to read this edition. Send your feedback directly to: khuston@asicentral.com. It may be published in a future issue of Advantages magazine. For free information on products featured in Advantages, click here: www.advantagesinfo.com.


– Kathy Huston, editor 
ADVERTISEMENT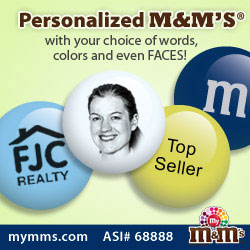 That's a Lot of Smackers (baby's onesie)
The Pitch: I just read a report that the average middle-income family (that would be the Huston's) spends $221,000 to raise a child – and that's just until age 17, so I guess college tuition doesn't even play into that calculation. Naturally, I emailed this report immediately to my two boys. What good is being a mom, if you can't make them feel a little guilty now and then? I betcha new parents would love getting something free at the beginning. How about a 100% combed ringspun cotton jersey infant creeper (onesie) from Broder Bros. (asi/42090)? Item RS4438 is only $8.60-P. Cute for maternity wards; pediatricians and ob/gyns, parenting classes; moms' groups, daycare and more. See it here in a variety of cute and cuddly colors: https://www.broderbros.com/cgi-bin/online/webshr/prod-detail.w?sr=RS4438&currentColor=.
The Bottom Line: Jeepers, creepers.
So Long, Farewell (balloons)
The Pitch: To all my "American Idol" homies out there (I'm talking to you, Kevin, and many more): It is with sadness I report that Paula Abdul will not be returning as an incoherent-yet-amusing judge next season. Classic Balloon Corp. (asi/45307) has a perfect going-away-party balloon. Item 70831 is 18" round and features a smiling, waving cat (can we really trust a smiling cat, though?), with "Goodbye and Good Luck" as the message. Pricing starts at: 2000, $1.52-P. Call supplier about this balloon and check out other options here: www.classic-balloon.com.
The Bottom Line: Pop it.
Remember This (flashing message board)
The Pitch: My cluttered mind (trust me, it really is cluttered) sure could use a product like this. Item DLM5001 from Magna-Tel Inc. (asi/68480) is a dry-erase flashing message board with built-in magnets and easel. The batteries and black ink dry-erase marker with built-in eraser are included and the flashing light can be turned on or off. Pricing starts at: 25; $9.76-Q. Good target markets? Any household in America! See it here: http://www.magna-tel.com/public.product.cfm/productid/1517.
The Bottom Line: Write and light.
Yummy and Profitable (food gifts)
The Pitch: What's not to love about Maple Ridge Farms (asi/68680)? Not only do they offer plenty of delectable choices, but as part of their 30th anniversary celebration, the supplier is giving distributors a VISA gift card with every order over $600 (net). Card values range from $25 to $250 depending upon the value of the order. They expect to award over $125,000! Seems like a good time to place your holiday orders, am I right? The offer runs through November 5 and can be combined with their 15% early order discount program. Click here to view your options: www.mapleridgefarms.com.
The Bottom Line: Tasty surprise.
Soak It In (car coaster)
The Pitch: I can't tell you how many times I've spilled coffee all over my minivan cup holders; it doesn't seem to matter how slow I take the speed bumps. Logostone (asi/67880) has just the ticket: Item LGCC is an absorbent stone car coaster that fits in the cup holder. A notched out thumb area allows you to take it out easily. It's a great idea for your automotive clients. Pricing starts at: 100; $2.95-R. Check it out here: http://www.logostone.com/.
The Bottom Line: Easy clean up.

Advantages is bringing over 60 top suppliers to a city near you. 
Come to the industry's largest and most popular traveling show, the ASI Advantages Roadshow. For a list of cities and dates, visit http://www.asishow.com/advroadshow/. Admission is free for all distributors and salespeople! 
SPONSORED BY


Advantages™ Hot Deals is a trademark of the Advertising Specialty Institute. You were sent this newsletter as a benefit of your ASI membership. Copyright 2009, ASI. All Rights Reserved. 
If you'd like us to send Advantages Hot Deals FREE to anyone else at your company (or to your off-site sales reps), go to www.asicentral.com/newsletters and complete the online form.
Interested in advertising in Advantages Hot Deals? Send an email to ddienna@asicentral.com
Click here to subscribe to Advantages™ magazine. 
Advertising Specialty Institute®, 4800 Street Road, Trevose, PA 19053