Volume 694
August 3, 2015
Hi everyone!

It can't be August already! These weeks really roll around quickly. Here are a few quick ideas to get your new week off to a good start. Enjoy. Send any feedback directly to me: khuston@asicentral.com. I'd love to hear from you and it may be published in a future issue of Advantages magazine. For free information on products featured in Advantages, click here: www.advantagesinfo.com.

–Kathy Huston, editor
Follow me on Twitter: @kathyadvantages
Write Away


The Pitch: Your client wants the pen they give to their clients to be the one they reach for time and again. You can't go wrong, then, with a high-quality ballpoint pen from AT Cross Company's (asi/47520) Sheaffer 100 collection. It comes in a luxury gift box and can be engraved and is a nice idea for the holidays. For color options and more info, click here: : http://bit.ly/1Dlat02.
The Bottom Line: Sign here.
Roll the Dice


The Pitch: If I was a betting woman, I'd say full-color dice from Gameparts (asi/55750) would be a hit for many promotions. Think: trade shows, fundraisers, game nights and more. They can be printed on one to six sides and come in a variety of colors – even transparent. To check them out, click here: : http://bit.ly/1JHZMpb.
The Bottom Line: Try your luck.
Snazzy


The Pitch: I like the Super Snazzy Swanky Set from Prime Line (asi/79530) because, well, it's called the Super Snazzy Swanky Set. This nifty guy with a tie holds two highlighters, a mechanical pencil and a ballpoint pen. This is fun for work, home or office. Get it for as low as $2.98-C. Click here for more info: http://bit.ly/1g1gvba.
The Bottom Line: With open arms.
Keep It Cool


The Pitch: I could have used this Full-Color Bottle Coolie for my refreshing Coors Light by the pool yesterday (my husband, the beer snob, calls it Girl's Light). It's from Venturaline (asi/93520). The permanent imprint through dye sublimation becomes part of the fabric and leaves a smooth surface that will not crack or fade. Suggest it for parties, bars, outdoor events, tailgating and other fun occasions. You can get it for as low as $1.51-C. http://bit.ly/1SWtMOM.
The Bottom Line: Zip it.
Check out the latest episodes of The Joe Show! Managing Editor Joe Haley shows off shows off several
items you can suggest for upcoming client promotions! Click here to watch the latest episodes!
Fun New Ideas
Looking for a unique cap? How about a vintage messenger bag? Been searching for a memorable desktop item?

Powerful Promos 
Looking for an in-demand tech item? How about some trendy apparel? Want a gift idea that hikers and cyclists will love?

ADVERTISEMENT


Create a unique, one of a kind promotional product presentation that will take your account to the next level. These affordable customized power banks are perfect for your client's campaign where a highly perceived value item is required. Contact Emperor today at 888-883-1286 or sales@emperormktg.com
asi/52371


Make Greater China your trusted import and manufacturing partner. We have over 20 years experience manufacturing your dreams into reality.
asi/58135

Himalayan Salt Shot Glasses from The Spice Lab Carved from the finest quality, food grade Himalayan pink salt, now with patented insert that keeps tequila from getting too salty. Customize with full color logo imprint on waterproof label. Contact: sales@thespicelab.com
asi/88719


1:25 Die Cast 1932 Ford Pickup with Open Bed. Features include opening doors and detailed interiors, high gloss baked enamel finish.
asi/88564

The Ice Ball Experience! MAXIMUM CHILL/MINIMUM DILUTION. Let the flavor of your refined spirit soar and chill with the Spirit Ice Vice. Without cube corners melting into your pour, you can rock the flavor without the rocks. The spirit ice vice creates the perfect chill for your perfect pour.
asi/46509


Water Infuser Drops Item# WD Add a splash of flavor to your day with our zero sugar, zero calorie and USA made water infuser drops! Control the flavor with just a squeeze and an average of 24 servings per bottle! Great for sporting events, rallies, fundraisers and more!
asi/95838

Golf Event Tee Pack Includes six imprinted tees, two standard or jumbo ball markers and one gripper divot.
asi/84569


#EWN- Etched Wooden nickels make great hand outs, business cards, coupons and giveaways. No stock graphics or designs you have to use. Low minimums.
#SS09- The etched logo stone is an effective and powerful way to display your company logo or message. A perfect green promotion for a "Rock Solid" company!
asi/68029

Celebrate any event with this 24-oz. Yard drinkware. USBEV Plastics provides Quality Products, Great Service, and Complete Reliability.
asi/93135


Try us today to experience the difference with Color Cup.
asi/45800


Embroidered Mid-Back Mesh Task Chair with Arms and Chrome Base - This value priced mesh task chair will accommodate your essential needs for your home or office space.
asi/54572


MARBLE MAX/LEX AWARDS - Marble Grooved Obelisk Award: Immortalize your message on this legendary symbol that traditionally denotes stability, resolve and creativity. #OBG102-GR
asi/68720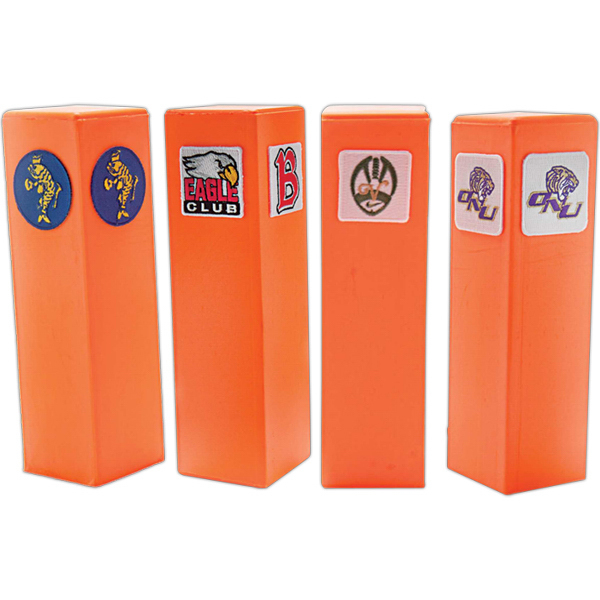 The Souvenir Pylon is a miniature Gilman NFL Game Day Football Pylon. Scaled down in size and weight to make is a desktop collector's item. Authentic in all details. Each face of the pylon displays an embroidered team logo. The pylon makes a great gift, premium giveaway, retail novelty item, fundraiser and award. Sold per dozen. Great gift for stadium suite box holders or to athletic department donors. Also used as a unique class reunion gift for championship teams. Used by corporations as a premium giveaway to thank customers for buying a new product, renewing a subscription or signing up for a new service. Also used as a reward for reaching a certain level of spending or as a prize for responding to special promotions.
asi/57020
Advantages® Hot Deals is a trademark of the Advertising Specialty Institute. You were sent this newsletter as a benefit of your ASI membership. Copyright 2015, ASI. All Rights Reserved.
If you'd like us to send Advantages Hot Deals FREE to anyone else at your company (or to your off-site sales reps), go to www.asicentral.com/newsletters and complete the online form.
Interested in advertising in Advantages Hot Deals? Send an email to ekoehler@asicentral.com
Click here to subscribe to Advantages® magazine. If you no longer wish to receive Advantages HotDeals Newsletter, click here
Advertising Specialty Institute®, 4800 Street Road, Trevose, PA 19053