ADVERTISEMENT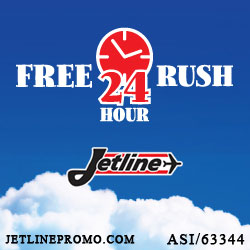 Cushy Control
The Pitch: I don't know about you, but I like to turn the TV on as background noise when I take a little nappy (usually, I turn on the Food Network because It makes me feel cozy but, let's face it, I'm not really going to cook what they're cooking). Well, Promobilia (asi/79902) has just the right product for such couch potato activities. It's the Universal Plush Pillow Remote. It's a velour pillow with a built-in remote control and when I received this sample for our May issue of Advantages magazine I said, "Oh, hey; cool!' The supplier doesn't have a photo of it yet on the website, but you can email them for more info: info@promobilia.com.
The Bottom Line: Push it.
Circle of Friends
The Pitch: If you're looking for a unique executive gift or something to connote teamwork, Minya Int'l. (asi/71370) has the brand-new Bendable Hand-in-Hand Tray. It's made of flexible PVC with steel built in, so you can bend the little people holding hands upward to form the tray. Pricing starts at: 50; $10.50-R. I spotted this at the ASI Dallas Show and said, "I have to tell the world about this.' OK, I actually said, "Please send me a sample for our magazines,' but you can understand my enthusiasm if you just check it out here: http://www.minyausa.com/.
The Bottom Line: Happy together.
Crystal Clear
The Pitch: Planning a women's conference or networking event? Check out the metal business card holder that features a smattering (my word of the day) of Swarovski crystals to really class things up. It's from TK International Group (asi/90487) and pricing starts at: 50; $32.95-R. Check out their crystal items here: http://tkig.com/.
The Bottom Line: Card-carrying member.