ADVERTISEMENT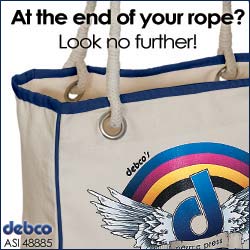 Hairy Situation
The Pitch: Today is National Honesty Day and I'm not gonna lie, this is one ridiculous product. And yet, I can totally see the bar and party scene eating this up. The BeerStache from BeerStache (asi/39394) is a fun printable mustache that clips onto a beer bottle, so with every sip, you have a mustache. For pricing and to check it out, click here: http://www.beerstache.com/.
The Bottom Line: Clip and sip.
Pull Up a Chair
The Pitch: Anyone who's ever sat in the bleachers knows they are not one bit comfy. So here's the perfect product for sports teams and marching bands. Item SYSS-822 from Golden Lion International (asi/57657) is a stadium seat/cushion with a back and pockets. It folds up and has a carry handle, so you can easily cart it with you anywhere. Pricing starts at: 24; $15. Please take a look: http://goldenlionusa.com/.
The Bottom Line: Take one for the team.
Let It Fly
The Pitch: Here's a cool twist on your usual car flag. Quinn Flags (asi/80228) offers the brand-new car windsock. They are made in the USA from durable polyester and also made to withstand highway speeds. Item #CFW-2297 starts at: 25; $19.50 and it will really make a statement for any type of promotion. Think of school fundraisers, political campaigns and more. Check it out: http://www.quinnflags.com/.
The Bottom Line: Windblown boost.
Campus Cool
The Pitch: When we went to Accepted Students Day at West Chester University last month, my son Andrew received a logoed drawstring backpack filled with important information. Colleges all over are doing similar promotions and Banaka Inc. (asi/38243) offers an eco-friendly version, item DD-9521, the Eco-Smart Drawstring Duffel. You can get it for as low as $2.89. See it here: http://banaka.net/.
The Bottom Line: Packs a punch.