ADVERTISEMENT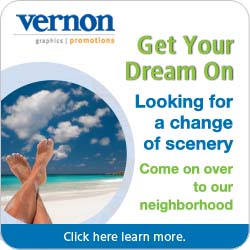 Salad Works
The Pitch: Love this idea from Hit Promotional Products (asi/61125), especially for weight-loss establishments and health clubs. Wait, I take that back. This is perfect for anyone and everyone because, let's be real, we all need to be eating better. It's item #2155, a three-piece salad shaker set. It holds up to 4 cups of salad. The fork slides into the lid for convenient storage and a removable dressing container nests in the lid and holds up to 4 tablespoons of dressing. It's also FDA approved. Pricing starts at: 50; $3.15. See it for yourself and tell me you don't also love it: http://www.hitpromo.net/.
The Bottom Line: Shake it up.
All Fired Up
The Pitch: Is there anyone who doesn't feel happy when they think about barbecues and picnics? If you want to evoke such sentiments, try item ZIP 1209 from Zipline (asi/99030). It's a mini charcoal/wood grill and condiment set. It features a pair of mustard and ketchup bottles, basting brush and salt and pepper shakers. And it all comes in eco-friendly packaging. This is a great incentive gift and would work well in any summer-related promotion. Pricing starts at: 25; $24.90. Click here and search ZIP1209: http://www.addsomezip.com/.
The Bottom Line: It's party time.
Goodnight, Nurse
The Pitch: Where would we be without nurses? My mom was a nurse and she still doles out helpful advice and a nurturing nature wherever she goes. National Nurses Week is May 6-12 and Sparkling Earth Promotions (asi/88449) offers cool stethoscope covers to spice up any set of scrubs. A pocket is useful for carrying alcohol wipes, pens, etc. Pricing starts at: 24; $7.42. Reach out to hospitals and doctors' offices today. Click here:
http://www.sparklingearth.com/.
The Bottom Line: Got it covered.
Lock Lips
The Pitch: As a serious news journalist, I'm always reading very important reports. For example, I just read "50 Places To Make Out Before You Die." Most of it's pretty standard fare (who hasn't made out at a bar?). But before there's any making out, there should be this new beeswax premium lip balm in a heart-shaped tin from Admints & Zagabor (asi/31516). Pricing starts at: 250; $1.60. This is the perfect basket item for lovers' retreats and wedding favors. Check it out: http://www.admints.com/.
The Bottom Line: Hearts aflutter.