ADVERTISEMENT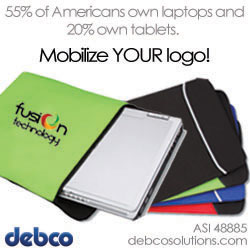 Made in the Shade
The Pitch: Wow! It's going to be sunny and almost 90 today (I have the AC on actually). ShedRain (asi/86785) offers just the product to go along with such hot and sunny weather: ShedRays, umbrellas that provide SPF 50+ for sun protection, as well as your usual water-repellence for the rain. A percentage of the profits goes to the Melanoma International Foundation. I don't see how you could lose. Click here.
The Bottom Line: Don't get burned.
Achy Breaky
The Pitch: Looking for a unique idea for fitness centers and health-related promotions? Natural Trends (asi/73497) offers the national brand Max-Freeze Muscle and Joint Relief in various packages. The formula temporarily relieves minor aches and pains of muscles and joints associated with backache, arthritis, strains, bruises, and sprains with soothing menthol and camphor. It is enriched with organic ilex, aloe and arnica, vitamin E and tea tree oil. For pricing and other info, click here.
The Bottom Line: All better.
ADVERTISEMENT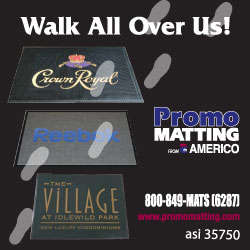 Karma Chameleon
The Pitch: You know what karma is right? It's the philosophy that what you put out there in the world comes back to you. I think if you put the Karma Bead Bracelets from Pinnacle Designs (asi/78140) out there, you will get great results. They are eco-friendly, strung on an elastic band and custom-printed on every other bead. They are available in blonde, brown and black natural woods at various prices. These would be fun for souvenir shops, teen-related promos, yoga studios and more. Check them out here.
The Bottom Line: Read the bead.
Java Jolt
The Pitch: So, what do SPF 15 lip balm and coffee shops have in common? Your coffee-shop clients should absolutely be giving out SPF 15 Caffeine Lip Balm from Raining Rose Inc. (asi/80489). This would be perfect for bed-and-breakfast establishments too. Pricing starts at: 250; $1. Click here.
The Bottom Line: Pucker packs a punch.