ADVERTISEMENT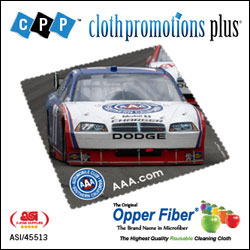 Big Bass
The Pitch: My sons are always losing their ear phones (among other things; you know how guys are!). High Caliber (asi/43442) offers Extended Bass Ear Phones (item T-433), which would work for all kinds of promotions, especially those geared towards young adults. You can get them starting at $2.69 for 100 and they come in a nice package with your client's logo. See them here: http://www.highcaliberline.com/.
The Bottom Line: Turn it up.
Stone-Cold Sales
The Pitch: Rock on with the Stone Paper Pick-a-Pen Notebook from Aakron Line (asi/30270). It's made from granite pulp and the paper is ultra-smooth, water- and tear-resistant. The pen is included. Standard pricing starts at $6 for 50. Click here: http://aakronline.com/.
The Bottom Line: Notable.
What's the Buzz?
The Pitch: I saw Harris Cohen of All-in-One (asi/34256) (and his nice family) at the Padres game in San Diego last week and it reminded me this supplier has some pretty great products. For example, take their new items that everyone's buzzing about, including the BuzzBrush, a USB drive and screen cleaner in one. Is there any tech-related company that wouldn't go ga-ga for this? These are perfect for any office, dorm room or home. To see it and get pricing info, click here: http://allinoneline.com/.
The Bottom Line: A clean sweep.
Tee Time
The Pitch: Is Bubba Watson, yesterday's winner of the Masters Tournament and one-time Advantages cover boy, not absolutely adorable? Did you know he never had a lesson or a teacher and that he uses a pink driver? Here's another golf-related goody that's absolutely adorable. The Golf Pro Gourmet Gift Bag from Gifted Expressions (asi/56777) looks like a bucket full of balls, but it includes pretzels, dipping mustard, chocolate chip cookies, almonds and more. It's the ideal tournament gift. You can get it starting at $35.95 and you can check it out here: http://www.giftedexpressions.com/.
The Bottom Line: I'd say it's a hole-in-one.