ADVERTISEMENT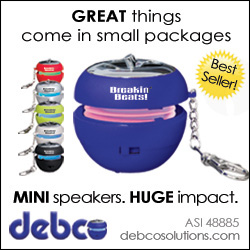 I'm Not Buggin'
The Pitch: This product is such a simple idea and yet, I love it. And I need one, so Sneakers doesn't drink the water on my nightstand! It's the BugNot from BugNot (asi/42433). It's a beverage container lid that keeps everything out of your tasty drink. This is a great item for day camps, company picnics, family reunions, concerts and more. Nobody wants bugs in their beer or bees in their soda. You can get it at $7 for five and be sure to check out the great acting (LOL) in this video explaining the concept: http://bugnot.us/.
The Bottom Line: Put a lid on it, wouldja?
The Bird Is the Word
The Pitch: How cute are those animal hats you see around town these days? Well, maybe not around town, but definitely at sporting events and on school campuses and such. Kreative Caps Inc. (asi/65652) offers them in a wide array of choices (I like the bird), but you can also get them custom-made for your clients. Pricing varies, depending on the style, but check out all the adorable kids wearing them and get other information here: http://www.kreativecapsinc.com/.
The Bottom Line: This hat's where it's at.
Hearts & Flowery Conversation
The Pitch: Here's what everyone's talking about: custom conversation hearts from Mid-Nite Snax (asi/71685). These will work for practically any promotion and people are sure to get a kick out of them and remember your clients. You can get them in a "sweetheart box" starting at 500; $2.46. Check them out: http://www.midnitesnax.com/.
The Bottom Line: Chatty candy.
The Main Event
The Pitch: Being that I'm at a trade show, I decided to present a trade-show product. TripBuilder (asi/92147) offers pocket-size Event Guides, which hold all your trade-show details. The unique, expanding design allows for a large amount of information, so you can include floor plans, sessions, exhibitors, speakers and info about the show city itself. To see them and request more information, click here: http://tripbuilder.net/cityguides/.
The Bottom Line: In the pocket.