ADVERTISEMENT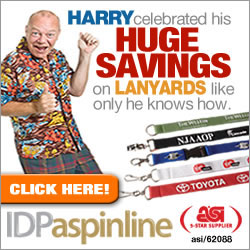 Flying High
The Pitch: People are pretty excited around here about the Flyers overtaking the Sabres last night. I even saw a Septa bus this morning with Go Flyers in the space where the stop is supposed to be displayed. Color Promotions (asi/45775) has great new large, felt, full-color pennants, that are perfect for promoting spirit and pride. Think of these for sports, fundraisers and college recruiting programs. The one they are showing on ESP shows a picture of a varsity cheerleader with her name, so there's an idea too. Pricing starts at: 50; $4.20. Email: james@colorpromotionindustries.com.
The Bottom Line: Loud and proud.
Alarmed and Ready
The Pitch: I don't know about you, but I will be up at 4 a.m., with a nice mug of coffee, watching the royal festivities from my bed on Friday morning (and my husband will turn over and say, "Really?"). At times like these, a great alarm clock comes in handy. AlightPromos.com (asi/34194) has a fun light-up LED digital alarm clock, which features time, day of week, month/date and temperature. Includes 3 replaceable AG3 batteries. Pricing starts at: 100; $5.82. Click here: http://www.alightpromos.com/.
The Bottom Line: Wake up to the possibilities.
Don't Sweat It, Sweetie
The Pitch: If Prince William gets cold feet, he could use one of the stress relievers from YafaLine (asi/98760), available at EQP through May 31. For his purposes, I like the heart-shaped version (item AC324). In fact, this would be a fun idea for weddings and many special events, not to mention health fairs, of course. Check it out: http://www.yafaline.com.
The Bottom Line: Give me a little squeeze.
BEAT THE SLUMP!
Ready to make this your best third-quarter ever? Advantages wants to hear the ideas and techniques you are implementing to beat the summer sales slump. Your answers could be featured in the June issue of Advantages magazine. Send an e-mail ASAP to Staff Writer Jennifer Vishnevsky: jvishnevsky@asicentral.com.
PRODUCT SPOTLIGHT
NEW! USB Sticks from AZX Sport ASI/30250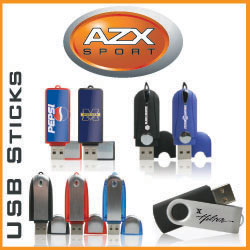 Features: 512MB - 16GB memory size available. Large variety of
colors and shapes. Ability to pre-load files onto USB.

Construction: Full color domed, Laser engraved
and pad printing available.

Lead Time: 1-3 business days on stock USB. 10 business days on
non stock USB. Minimum order 25pcs.

Orders and Art: Info.Advantages@aztex.com

Quote Requests: Info.Advantages@aztex.com

Visit www.azxpromotions.com to see our full line of products.

Or call 1-800-558-4836
CALL FOR QUOTE!
For other new and creative products, visit the Product Central section on ASICentral.com.