| | |
| --- | --- |
| Keeping you in the loop on products and deals you may not have heard about. | April 20, 2011 |
SPONSORED BY



Sales Tip of the Week
Happy Wednesday! Are my Jewish friends enjoying Passover? Enjoy this edition, too, and send your feedback directly to: khuston@asicentral.com. It may be published in a future issue of Advantages magazine. For additional information, contact the supplier. To unsubscribe, follow the instructions at the end.


PRODUCT SPOTLIGHT


– Kathy Huston, editor 


The Joe Show:
Smart & Savvy

The Joe Show: Smart & Savvy
In this episode of The Joe Show, Managing Editor Joe Haley shows off some cool products that are sure to make you look good in front of your clients. Want to offer something completely unique? Have clients looking to advertise their logos in their target audience's kitchens? The Joe Show has exactly what you need.  

Click hereto watch this new products episode of The Joe Show.

Want more videos? Subscribe now to our YouTube videos.

Vegan Lip-service
The Pitch: I have been hearing a lot lately about people trying to go vegan and was intrigued listening to vegans on the Oprah and Ellen shows. It all sounds like a grand plan and healthy to boot, but I really don't think I could go without milk, eggs, cheese, etc. And once in awhile I really do crave a nice, juicy steak. But this is an idea I could get behind: vegan lip balm, made without beeswax and with super-organic ingredients. It's from Eco Lips Inc. (asi/51599). Read about it here: http://www.clearlyorganiclips.com/. Think of this for any eco-friendly program, programs that promote vegetarian causes and lifestyles and outdoor events, because you can get them with SPF too. Pricing starts at: 100; $1.60-R.
The Bottom Line: Pucker power.

ADVERTISEMENT

ADVERTISEMENT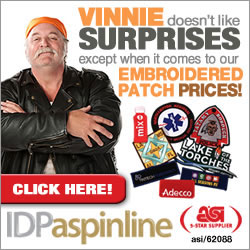 Find a Shady Spot
The Pitch: Don't you hate it when you're still squinting, even with your sunglasses on? Try this hot new idea from Specialtising Intl. Inc. (asi/88584). It's perfect for travel, sports, campgrounds and more: Black-framed sunglasses with assorted neon-colored temples, super-dark lenses and a removable visor on top. Pricing starts at: 96; $4.04-P. Click here, scroll down and check them out: http://www.seesun.com/sun10.html.
The Bottom Line: Over and above.
Glassy-Eyed
The Pitch: I really like this product for weddings, parties, college events and then some. It's a 2 GB heart-shaped jeweled USB drive necklace. It's pretty and practical and from Foxyware Rhinestone Glassware (asi/87605). Pricing starts at: 100; $24.90-R. Click here: http://87605.asisupplier.com/.
The Bottom Line: Hanging around.
Count Your Pennies
The Pitch: I keep a large jar in my desk drawer here at work and I put all my change from breakfast and lunch in the ASI Café in it. I never know how much it's adding up; I simply have to guess, so this digital coin bank that electronically calculates what you put in it sure would come in handy. It's from Hit Promotional Products (asi/61125). Item #5025 would be a fun idea for banks, mortgage companies and any other financial client. Pricing starts at: 50; $7.07-R. See it here: http://www.hitpromo.net/product/.
The Bottom Line: It adds up.
PRODUCT SPOTLIGHT
NEW! USB Sticks from AZX Sport ASI/30250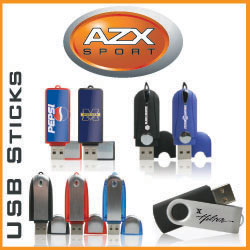 Features: 512MB - 16GB memory size available. Large variety of
colors and shapes. Ability to pre-load files onto USB.

Construction: Full color domed, Laser engraved
and pad printing available.

Lead Time: 1-3 business days on stock USB. 10 business days on
non stock USB. Minimum order 25pcs.

Orders and Art: Info.Advantages@aztex.com

Quote Requests: Info.Advantages@aztex.com

Visit www.azxpromotions.com to see our full line of products.

Or call 1-800-558-4836
CALL FOR QUOTE!
For other new and creative products, visit the Product Central section on ASICentral.com.
Advantages is bringing over 60 top suppliers to a city near you.
Come to the industry's largest and most popular traveling show, the ASI Advantages Roadshow. For a list of cities and dates, visit http://advantagesroadshow.com/. Admission is free for all distributors and salespeople!
SPONSORED BY


Advantages™ Hot Deals is a trademark of the Advertising Specialty Institute. You were sent this newsletter as a benefit of your ASI membership. Copyright 2011, ASI. All Rights Reserved.
If you'd like us to send Advantages Hot Deals FREE to anyone else at your company (or to your off-site sales reps), go to www.asicentral.com/newsletters and complete the online form.
Interested in advertising in Advantages Hot Deals? Send an email to ekoehler@asicentral.com
Click here to subscribe to Advantages™ magazine. If you no longer wish to receive Advantages HotDeals Newsletter, click here
Advertising Specialty Institute®, 4800 Street Road, Trevose, PA 19053