| | |
| --- | --- |
| Keeping you in the loop on products and deals you may not have heard about. | April 6, 2011 |
SPONSORED BY


Oh happy day! I'm not really here. I actually wrote this yesterday, since I took off today because it's my birthday (singing that Beatles song in my head right now; http://www.youtube.com/watch?v=ztoSUhbNntQ. I don't think anyone should work on the date they celebrate the beginning of their existence, do you? Enjoy this edition and send your feedback directly to: khuston@asicentral.com. It may be published in a future issue of Advantages magazine. For free information on products featured in Advantages, click here: www.advantagesinfo.com.

PRODUCT SPOTLIGHT


– Kathy Huston, editor


The Joe Show:
Hot Items, Cool Ideas

The Joe Show: Hot Items, Cool Ideas
In this episode of The Joe Show, Managing Editor Joe Haley shows off some of the newest items to hit the ad specialty market. Want some ideas to target the education market with? Have a travel industry client looking for that perfect giveaway? The Joe Show has exactly what you need.  

Click here to watch this new products edition of The Joe Show.

Want more videos? Subscribe now to our YouTube videos.

Pump Up the Volume
The Pitch: OK, so last week I said I had a Rick Springfield eight-track tape back in the '80s and two people wrote to tell me that was not possible, because eight-tracks were defunct by then. Perhaps I was just checking to make sure you're reading or I simply "misremembered" the '80s. I'm sure I'm not the only person who forgets part of that decade. Well this CD from Sound Promotions (asi/88226) will bring back some memories. Item NET-244 is a collection of rock hits from that decade, featuring artists like the Eurythmics, Rick Astley, Hall and Oates and many more. This is a fun idea for theme parties and other special events like reunions. Pricing starts at: 25; $9.65-R. Click here: www.pvtlabel.com/.
The Bottom Line: On the record.

ADVERTISEMENT

ADVERTISEMENT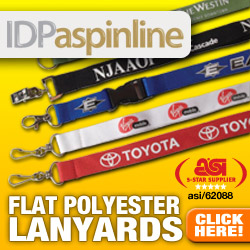 Sleek & Chic
The Pitch: Call me simple (you wouldn't be the first), but I just tried out our new ladies' room here at ASI and it's awesome. I mean it. It's very swanky. This, too, is swanky in my opinion. You know those purse hooks, which hold your purse off the ground so it doesn't get all dirty and germy? Well MyTagAlongs Inc. (asi/72779) offers their Croco Collection. These high-quality collapsible purse hooks attach to any surface and they come with a protective pouch. Pricing starts at: 100; $11-P. For more info, email Jeannie: jeannie@mytagalongs.com.
The Bottom Line: I'm hooked.
Cabana Boy
The Pitch: It's the perfect time to think about summer promotions and Passion Plus Limited (asi/76409) offers a lovely little beach cabana/tent that's constructed with flame-retardant nylon material and a frame of shock-cord fiberglass poles. It measures five feet by six feet. Pricing starts at: 300; $16-R. I happen to think this would be a wonderful giveaway at company picnics. It's different, right? Now if they could only include a handsome cocktail servant. Email: info@PassionPlusPromos.com.
The Bottom Line: Set up camp.
Windy City
The Pitch: Wow, the winds were really whippin' out there this morning. Pro Golf Premiums Inc. (asi/79680) offers the perfect topper for windy-day play: It's their new Supersoft Windshirt, which provides comfort and protection on the course. If you're like my husband, you'll wear it off the course too (he loves those things). I do declare, I love it in Scarlet. For pricing and other info, email: info@progolfpremiums.com. To check it out, click here: www.progolfpremiums.com.
The Bottom Line: To top it all off.
Take a Look at Our April Edition
In our April issue of Advantages magazine, we profile fabulous women to watch, give you great business spring cleaning tips, and provide a step-by-step guide for setting up company stores. Take a look and let me know what you think by emailing a letter to the editor to: khuston@asicentral.com. Access the issue here: www.advantagesmag.com.
PRODUCT SPOTLIGHT
NEW! USB Sticks from AZX Sport ASI/30250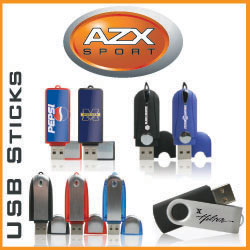 Features: 512MB - 16GB memory size available. Large variety of
colors and shapes. Ability to pre-load files onto USB.

Construction: Full color domed, Laser engraved
and pad printing available.

Lead Time: 1-3 business days on stock USB. 10 business days on
non stock USB. Minimum order 25pcs.

Orders and Art: Info.Advantages@aztex.com

Quote Requests: Info.Advantages@aztex.com

Visit www.azxpromotions.com to see our full line of products.

Or call 1-800-558-4836
CALL FOR QUOTE!
For other new and creative products, visit the Product Central section on ASICentral.com.
Advantages is bringing over 60 top suppliers to a city near you.
Come to the industry's largest and most popular traveling show, the ASI Advantages Roadshow. For a list of cities and dates, visit http://advantagesroadshow.com/. Admission is free for all distributors and salespeople!
SPONSORED BY


Advantages™ Hot Deals is a trademark of the Advertising Specialty Institute. You were sent this newsletter as a benefit of your ASI membership. Copyright 2011, ASI. All Rights Reserved.
If you'd like us to send Advantages Hot Deals FREE to anyone else at your company (or to your off-site sales reps), go to www.asicentral.com/newsletters and complete the online form.
Interested in advertising in Advantages Hot Deals? Send an email to ekoehler@asicentral.com
Click here to subscribe to Advantages™ magazine. If you no longer wish to receive Advantages HotDeals Newsletter, click here
Advertising Specialty Institute®, 4800 Street Road, Trevose, PA 19053