SPONSORED BY


Happy Earth Day, my earth-friendly friends. I bring you sales-friendly ideas, speaking of which, if you missed my webinar last Wednesday, do not fret (you know I hate it when you fret!). You can go to www.asicentral.com/webinars and access the archive of "30 Sales Ideas in 60 Minutes." You're bound to gain some business-boosting tidbits. Also, enjoy this edition. You'll see I am adding what the actual product is after my witty headlines (yes, in my mind I am ever-so witty). This is in response to my buddy Lee's suggestion that doing so would make it easier for you folks. I aim to please, so thanks, Lee! Send your feedback directly to: khuston@asicentral.com. It may be published in a future issue of Advantages magazine. For free information on products featured in Advantages, click here: www.advantagesinfo.com.
– Kathy Huston, editor 
ADVERTISEMENT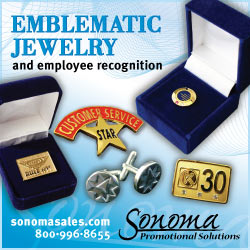 How the Hecketh Art Thou? (poetry magnet)
The Pitch: Mayor Daley of Chicago has declared that tomorrow will be "Talk Like Shakespeare Day," which means you won't be able to understand anyone in Chicago. At any rate, creative types who want to get clever with poetic prose would certainly appreciate the poetry magnets (item PMM03) from Premiums Plus Inc. (asi/79383). They are full-sheet magnets with 84 individual word cut outs. Recipients can rearrange words on the fridge or filing cabinet to create poetry, messages or jokes. You can choose from motivational word theme samples or supply your client's own words to go with their logo. This is a fun idea for any target market. Pricing starts at: Qty.-500; list price-$2.04; price code-R. Web address: www.premiums-plus.com.
The Bottom Line: Get your words' worth.
ADVERTISEMENT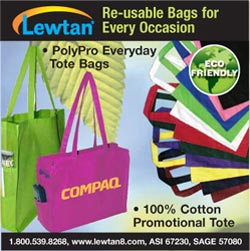 Eat Your Heart Out (gourmet lover's gift)
The Pitch: London's Times Online listed the 100-best eating experiences in the world. I didn't recognize any of them. I guess the likes of TGI Friday's and Applebees didn't rate. Leed's (asi/66887) has a unique grouping of products that will allow anyone to be a restaurant critic. Item 1300-53 is a three-piece gift set that includes an ultra-hyde journal case with snap closure, 2009 Survey of America's Top Restaurants book and a Tuscany roller-ball pen in black. Also, a 70-page journal allows people to rate their fave restaurants and golf courses. Great for travel-related clients, golf resorts and any restaurant lucky enough to make the cut. Pricing starts at: Qty.-12; list price-$54.96; price code-P. Check it out at: www.leedsworld.com.
The Bottom Line: You must rate.

Ole! (salsa set)
The Pitch: May 5th is not only the 47th wedding anniversary of Genevieve and Raymond (my lovely parents). If you're a big fan of a tasty Margarita, you know it's also Cinco De Mayo. Let the fiesta begin with item 3PP, a three-pint pack of 16-oz. salsas from Hot Sauce Harry's (asi/61826). Pricing starts at: Qty.-48: list price-$19.16; price code-R. Encourage your clients to send one to each of their favorite customers on May 5 or any time they want to spice things up. Go to: http://hotsauceharrys.com.
The Bottom Line: Saucy sales.
ADVERTISEMENT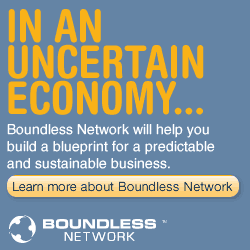 Jump Shot (kid's jump rope)
The Pitch: It's national Turn off the TV Week. (I don't think so, with it also being Disco Week on American Idol!) It's supposed to get people, especially kids, out and about and moving around, instead of assuming the couch potato position. I used to love jump roping when I was a kid, although I could never do Red Hot Pepper. Zenith Promotions (asi/98980) has a standard 84-inch jump rope, which would be perfect for any sort of kids' fitness initiative, school health fair, or even as a summer camp giveaway. Pricing starts at: Qty.-250; list price-$1.20; price code-P. Item FUN480P can be seen at: www.funplacetreasures.com.
The Bottom Line: Now that I've roped you in ...

Blades of Glory (grass kit)
The Pitch: If you were to assume that the Specialty Candle Co. (asi/88591) only sells candles, you would be wrong (you know what they say about assuming). I saw this product and thought, "That's really cool," and I think you will too, especially since we are all earth-conscious and nature-y today (yes, I made up "nature-y"). Item TNT16R is the Turf "n" Tin, a 16-oz. tin container that holds wheat grass seed and soil. You can create a little lawn right on your desk (and you only need a tiny lawn mower). The supplier suggests realtors, landscapers, health insurance companies and grass roots organizations as target markets. Pricing starts at: Qty.-50; list price-$6.25; price code-R. See it for yourself at: www.speccandle.com.
The Bottom Line: Green, green grass.

Advantages is bringing over 60 top suppliers to a city near you. 
Come to the industry's largest and most popular traveling show, the ASI Advantages Roadshow. For a list of cities and dates, visit http://www.asishow.com/advroadshow/. Admission is free for all distributors and salespeople! 
SPONSORED BY


Advantages™ Hot Deals is a trademark of the Advertising Specialty Institute. You were sent this newsletter as a benefit of your ASI membership. Copyright 2009, ASI. All Rights Reserved. 
If you'd like us to send Advantages Hot Deals FREE to anyone else at your company (or to your off-site sales reps), go to www.asicentral.com/newsletters and complete the online form.
Interested in advertising in Advantages Hot Deals? Send an email to ddienna@asicentral.com
Click here to subscribe to Advantages™ magazine. 
Advertising Specialty Institute®, 4800 Street Road, Trevose, PA 19053