Windy City Wrap-Up
Thursday July 21, 2016 | Filed under: ASI Shows, Members, News About ASI
ASI® recently finished an incredibly positive, powerful week in Chicago, including our last large show of 2016.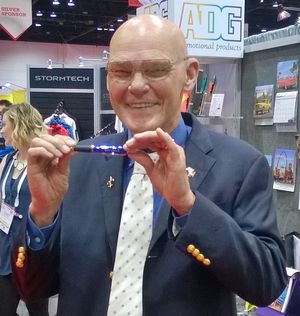 At ASI Show® Chicago, distributors enjoyed a ton of great events and we got very positive feedback from exhibiting suppliers pleased with the quality and quantity of the attendance.
We're already planning for 2017, so keep an eye out for registration notices and info on great keynote speakers like former Miami Dolphins quarterback Dan Marino in Orlando, Shark Tank judge Daymond John in Chicago and John Mackey, co-CEO of Whole Foods in Dallas.
Chicago highlights included the keynote appearance by husband-and-wife political dynamos Mary Matalin and James Carville, who gave us a real insider's view of this zany presidential election – including Carville's prediction for Hillary Clinton's VP: U.S. Agriculture Secretary Tom Vilsack as VP.
Matalin is a Chicago native whose mother managed beauty schools and whose father had a small business printing drapery fabrics. Matalin was 26 when her mother unexpectedly died, changing her life forever. "I was going to run her beauty schools," she told us backstage. "Instead, I packed up my Chevy hatchback with everything I owned and drove to D.C. The car died on the Beltway."
And the rest, as they say, is history.
The liberal Carville and conservative Matalin have been in the public eye since the early 1990s, helping get candidates elected or advising presidents. And though they're well-versed in answering questions posed by the country's toughest reporters, I believed it when they said they appreciated the "insightful, thoughtful" questions posed by our audience.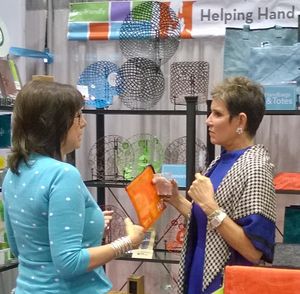 Two of my favorite quotes:
Carville: "You stay the same, you die. Everything in the world is changing around us and nobody in business says 'We're going to keep doing the same thing.' Businesses adapt."
Matalin: [GOP billionaire Donald Trump] "has the testicular fortitude that the Republican Party needs."
After the keynote, they graciously spent another hour visiting booths on the show floor, quizzing exhibitors about their products and posing for selfies (see pics).
And in case you wondered about the snazzy shoes Matalin wore onstage (she smartly changed to comfy ones right after), she got them for $87 at www.theoutnet.com, discounted from $1,500. "My daughter is a fashionista who picks out my clothes," she told us.
I didn't ask Carville what he was wearing, but did appreciate the lapel pins he had on: a fleur-de-lis symbol of New Orleans, where the couple is raising their family, an American flag and a Marine Corps logo.
One final note on ASI's political coverage: Please be assured that ASI doesn't endorse any candidates for public office.
That said, ASI is committed to providing the promotional products industry with in-depth coverage of the entire political season, including live coverage of the action surrounding the national conventions as well as member polls and stories that provide unique insight into the role promotional products play in politics, along with ways ASI members can tap into the lucrative political marketplace.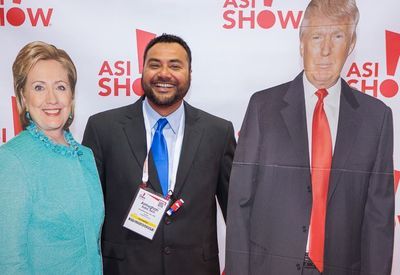 As for our keynote speakers, our primary process for selecting speakers is through extensive surveying of distributors, suppliers and decorators to determine their interests and their level of interest in specific people who are available for speaking engagements. In terms of political speakers generally, we have had people of all viewpoints – Bill Clinton, Laura Bush, George W. Bush, Colin Powell and Rudy Giuliani all have spoken at past ASI Shows.
Our goal is to find people who are engaging, interesting, timely, topical and who can help people think about things in ways that might be different than the way they think today. There are many different viewpoints, and we try to provide a forum for ones that surveys tell us are of interest to ASI members.