Stirring the Pot
Monday April 25, 2016 | Filed under: Community, Industry Initiatives, News About ASI, Research, Using Ad Specialties
Thanks to social media, reactions to controversial issues hit fast and furious these days. Most recently, a few of you in the promotional products industry posted about ASI's Advantages® magazine's mid-April cover featuring a large marijuana leaf.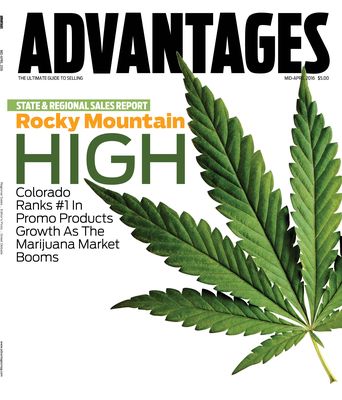 Our coverage revolved around Advantages' annual report on promo product growth in 2015 and the big news that sales in Colorado are increasing at a faster rate than in any other state in the country, fueled in large part by the burgeoning legal marijuana industry.
One reader shared her discomfort over the cover (which prompted her son to ask why she was now selling pot-related promo items) and questioned why we didn't wrap the cover or somehow disguise the pot leaf.
Here's my take:
So far, 24 states and D.C. have enacted laws to legalize medical marijuana, with more surely to come. Some states have stopped jailing users for carrying small amounts and others let adults 21 and older use it for any reason.
This on-going trend toward legalization has promoted celebrated magazines as diverse as National Geographic, Time, The Nation, Newsweek, Fortune and Philadelphia to feature covers similar to ours. Way back in 1969, even world-famous Life magazine put pot on its cover with the headline, "12 million Americans have now tried it…Should it be legalized?"
It was news then – and it's news now.
As we do with any business subject, ASI is covering the marijuana industry from all angles, even attending a cannabis trade show in New York last summer to report ways companies are using promotional products. The verdict? Cannabis presents a ripe opportunity for distributors.
I'm proud that our talented reporters and editors delve deep into business issues. And I'm proud of our photographers and designers for illustrating those issues with powerful images. That's their job.
We're not endorsing marijuana, just as we don't endorse (or condemn) any political figures. We will, however, invite them to speak at our trade shows. Over the years, ASI has hosted many A-list keynote speakers, including presidents Bill Clinton and George W. Bush, Donald Trump, First Lady Laura Bush and Gen. Colin Powell.
We took some heat for inviting Bush in 2014, but I defended our choice because, like all of our speakers, he was engaging and interesting, and offered unique insights into the world of business, recognizing our audience as great marketers and entrepreneurs.
By the same token, we're very excited about the Mary Matalin and James Carville keynote Thursday, July 14, at 8:30 a.m., during ASI Show® Chicago. Matalin (a celebrated conservative) and Carville (an unabashed liberal) are one of the best-known political couples in the country and are sure to provide insight into this year's unprecedented presidential campaign.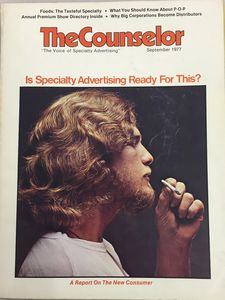 ASI isn't telling industry members to vote one way or another, and we're not telling them to sell marijuana-related items or call on marijuana dispensaries, just as we don't urge anyone to, say, call on bars or offer logoed condoms (which are available!).
We're simply presenting business opportunities and educating our audience – online, in print and at our many live shows and events – providing the same sound advice and sales tips we've offered the industry since 1962.
In fact, in 1977 ASI's Counselor magazine also featured pot on its cover (see pic at right), with the headline "Is Specialty Advertising Ready for This? A Report on the New Consumer."  I imagine that issue prompted a few letters (remember those?) as well.
Then as now, we always listen to our members and accommodate them whenever possible. Once, in response to a request from a distributor, we went so far as to cut out pages of a catalog he disliked, mailing it back to him in edited form.
I am sorry the reader who took issue with our marijuana leaf cover took some online heat for her comments. Maybe she can use the experience as a teaching moment to talk to her son about legalized marijuana, medical marijuana and the many ways our creative, innovative industry seizes opportunities presented by emerging markets.
Will we start censoring our editorial coverage or putting brown paper wrappers on certain covers? No. ASI's editorial team has won over 150 awards in the last 10 years, including several prestigious Jesse H. Neal awards, considered the Pulitzer Prize of B-to-B journalism.
I'm looking forward to more reporting, more eye-catching graphics and photos, and more awards for excellence.