Roll 'Em: Proof That People Love Promos
Thursday April 21, 2016 | Filed under: Community, News About ASI, Using Ad Specialties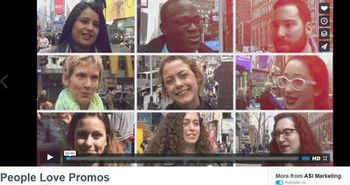 How many of you check online restaurant reviews before making a reservation? If you're like me, you rely on them because superlatives (or warnings!) seem more genuine when they come from real people. That's why ASI hit the streets to speak with people from all over the world about their logoed products for our latest video, "People Love Promos."
As you can tell from the title, our 2-minute video provides positive proof of what so many of us in the promotional products industry have said for years –logoed items are useful, effective and attractive. It's what we heard over and over when we visited New York's Times Square, camera in hand, to record testimonials.
The enthusiastic responses captured in the video support numerous findings in ASI's 2016 Global Advertising Specialties Impressions Study, while providing visual proof that 85% can recall the advertiser that gave them a logoed item, even months later (you can download the study PDF by clicking on the link or visiting www.asicentral.com/research)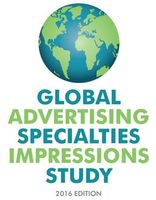 Just ask yourself how many advertisers you can remember from the commercials you saw on TV just last night or heard on the radio driving in to work. I'm betting it's a whole lot less than 85%.
I'm sure every time you meet with a tough sell to discuss a campaign using promo products you come armed with impressive stats like the advertiser recall. To bolster your case even more, I suggest you also show them our video.
Let the women, men, millennials, GenXers and baby boomers chatting up their favorite products help close the deal for you.
Click here to see the "People Love Promos" video for yourself. If you enjoy seeing happy people lend credence to the bedrock of our industry – affordable, high-value promotional products – share the link (https://vimeo.com/160951004) in your own circles.
You won't see any cute cats or embarrassing stunts, but at the end you will see an adorable puppy – wearing a logoed T-shirt.