ASI Earns Best Employer Title
Thursday March 24, 2016 | Filed under: Community, News About ASI
Validation is wonderful. In the case of corporate culture, it's assurance you're on the right track, that the work atmosphere you've created results in high productivity and happy employees. Here at ASI, our validation is tangible – a recent award for "Best Employer Overall" in an employee-driven competition recognizing outstanding workplace environments.
It wasn't our first "Best Places to Work" award, and I'm confident it won't be our last. Our employees have voted ASI a great place to work every year since 2010.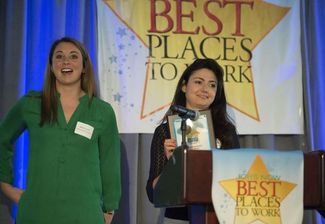 Some years we win for a workplace that's most appreciated by new college grads. Other years, we've been honored as a "Best Place for Working Moms" for perks like our private nursing room, parking spaces close to the entrance for pregnant women and eight weeks of free day care for new parents at our on-site day care.
This year, we competed with companies throughout the greater Philadelphia area, against large hospitals and other media companies. My favorite part wasn't the nice plaque we got (see photo above, featuring HR employees Jeannette Rhodunda, at right, and Ashley Locker), but quotes from some of the employees who voted for us, shared by the judges:
"We're encouraged to share our thoughts and ideas on how the company could do better, and often those ideas promote change. It allows me to take ownership of my role within the company."
"I feel like I snatched the golden ticket by working with such friendly and talented folks who welcome and motivate you to achieve the best of your abilities."
"We are on the cutting edge of technology in our industry. The management and employees are great people always pushing forward and it is a great learning experience."
"ASI is an amazing place to work. I am very happy coming into work every day. There are great perks and they treat their employees well."
As anyone competing to hire the best employees knows, finding top talent is an art and a skill. Lucky for us, we have a seasoned expert leading our recruiting: Carol Albright, ASI senior vice president of human resources. Carol's been with ASI since 1986 so she knows the value of long-standing employees as well as fresh eyes and ideas.

Sales can be competitive. All the changes in technology can make your head spin. Finding ways to communicate those changes to clients takes real finesse. But when I look around our building, at our IT and user experience experts, ace copywriters and video editors, our sales teams and so many others, I see sharp minds and dedicated people working together to help everyone in the promotional products industry be the best they can possibly be.

It helps, too, to offer employees good salaries and competitive benefits, an array of educational programs, an award-winning Wellness Program and diversity initiatives, along with a fitness center, Starbucks, a café featuring healthy options, casual dress every day and community service events.

I'm proud that we're an award-winning company and especially proud that we get to claim the "Best Place to Work" title thanks to votes from our employees.

And if you want to join our team, we do have openings in IT, sales, marketing and finance. Click here to visit our careers page for more info on ASI, our community (90 minutes to New York City!) and our current opportunities.