An Inspiring Story, From Hospital to Hollywood
Friday February 12, 2016 | Filed under: ASI Shows, Media Coverage
Imagine this: You're the 19-year-old son of a single mother. Low on money, and unsure of your direction in life, you join the U.S. Army in the hope it'll help pay for college. While on a routine mission driving a Humvee in war-torn Iraq, you hit a roadside bomb and suffer disfiguring third-degree burns.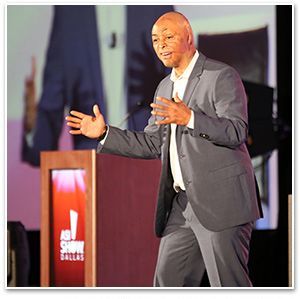 In a flash of fire, your entire life changes. Do you drown in self pity? Put your scarred face down and hide? If it was me, boy, I'm not sure if I'd have the strength to carry on. Not J.R. Martinez. He not only carried on – he soared to new heights, inspiring other vets and carving out a stellar career as a motivational speaker, daytime TV star and winner of TV's Dancing with the Stars competition.
This week, J.R. shared his awe-inspiring journey from hospital bed to Hollywood with a rapt audience at ASI Show® Dallas, in a one-hour speech that moved people to tears – and earned him two standing ovations.
After hearing him speak, I swore I'd never complain about my middling problems again.
"You can control your attitude, your willingness to learn, your willingness to grow," said J.R., who refused to let his injuries define or defy him, choosing instead to forge an entirely new path, spurred on by simple mantras like "Get through the day. Be positive. Have faith."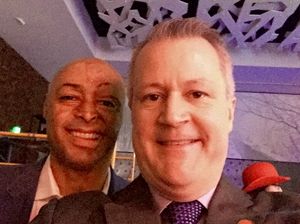 While waiting backstage before his speech, J.R. quizzed us on the industry, promotional products and even Norman Cohn's signature red hat. He has an insatiable curiosity about anything and everything. After the initial shock of meeting him, I stopped seeing his burns and saw only a smart, friendly guy with a sweet smile – and a driving ambition to be the best he can at whatever he tackles.
Now 32 and the father of a 3 ½-year-old daughter (as well as a best-selling author), J.R. (@iamjrmartinez) is just getting started – he's finally starting college and says he might study psychology. I'm betting he'll succeed no matter what he does. For more, click here for J.R's interview with Counselor's Andy Cohen and click here to read Chris Ruvo's PromoGram story.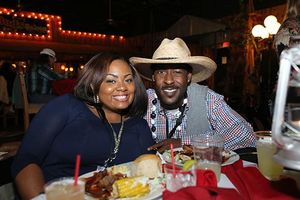 The keynote was a great way to kick off the final day of the three-day ASI Show Dallas (#asidallas) at the Kay Bailey Hutchison Convention Center.
The show attracted over 3,000 distributors and 466 suppliers (including 75 new this year). All told, 22 distributor companies chose Dallas to host meetings, a 10% increase over 2015. I was delighted ASI also partnered with three large regional associations at Dallas – the Promotional Products Association of the Southwest, Houston Promotional Products Association and the Sunbelt Promotional Products Association.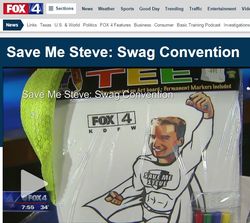 The show – and the latest, greatest promotional products in our industry – was such a hit it even drew the attention of Emmy Award-winning consumer reporter Steve Noviello, from the Fox 4 TV news station in Dallas, which aired a 4-minute segment on its morning show. Kudos to Steve for smartly reporting on the low cost and high value of cool, unique promo products that go far beyond the usual T-shirt or pen (although he featured them, too!). If you haven't already, take a look at his report.
As always, we enjoyed a fun night out at the Gala Celebration at Eddie Deen's ranch (see pics at right) among many other networking opportunities.
For complete coverage of the show, including blogs and videos, visit www.asicentral.com and www.asishow.com. And, for more on the most sought-after promotional products for 2016, check out ASI Product Editor Joe Haley's "The Joe Show" videos.
I hope to see all of you at our next large-scale trade show, ASI Show Chicago, Tuesday, July 12 through Thursday, July 14 at McCormick Place. And, don't forget about the brand-new Engage, a new hybrid event that combines the best of traditional trade shows, intimate hosted buyer events and roadshows. Engage West takes place Monday, March 14 through Wednesday, March 16 at the Anaheim Marriott, in Anaheim, CA and Engage East is Monday, May 9 through Wednesday, May 11, at the Marriott Marquis in New York City.
If you see me on the show floor, be sure to say hello.