All's Fair in Love, War and Politics
Wednesday June 22, 2016 | Filed under: ASI Shows, Member Benefits, News About ASI
No matter which candidate you support, ASI has you covered, starting with a special keynote Q&A at our Chicago show with political odd couple James Carville and Mary Matalin, and extending to presidential polls, convention coverage and stories on selling political promo products.
As Counselor reported, political swag is a multimillion-dollar business. In fact, investing millions in promotional products helped fuel the unexpected rise of Donald Trump and Bernie Sanders – and reinforced promo's essential role in the race for our nation's highest office, according to a story by ASI editor C. J. Mittica.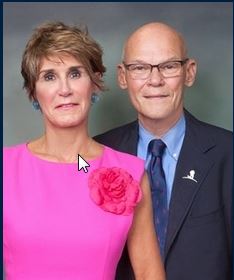 (Tip: if you do sell political promo products on the local, state or federal level – yard signs, buttons and brochures etc. – make sure you get paid upon delivery, especially by losing candidates!)
This is an important election. We the people will be responsible for electing the next leader of the free world. I'm thrilled Carville and Matalin will provide some insight into how the outcome will impact small business and the U.S. economy as a whole.
Since I'm moderating the Q&A at ASI Show® Chicago, I'd love to know what you think I should ask, so please leave a comment with your question, or email them to me at tim.andrews@asicentral.com.
Interestingly, Matalin recently switched parties, from Republican to Libertarian. As it happens, the first presidential candidate I ever voted for was Libertarian, so we'll definitely discuss the motives behind her switch. To listen to ASI's podcast with Mary Matalin, click here.
I also want to know exactly how the husband-and-wife political strategists have maintained a very happy marriage in spite of being polar political opposites. Do they ban politics from the dinner table – or thrive on fiery discussions?
Matalin, a conservative, grew up in the Chicago suburb of Burnham, IL. James "The Ragin' Cajun" Carville, a liberal Democrat, is from rural Carville, LA. The couple married in 1993. Together, they have over 30 years of experience in politics and have individually worked for Presidents Ronald Reagan, George H.W. Bush and Bill Clinton. In 2014, they co-wrote Love & War: Twenty Years, Three Presidents, Two Daughters and One Louisiana Home.
For answers, attend the keynote at 8:30 a.m. on Thursday, July 14, the last day of the three-day Chicago show – the largest promo products trade show of the summer. It's free to any distributor or decorator registered for the show and all exhibiting suppliers, but it's not open to the general public.
And, a limited number of tickets are still available for ASI members to gain early admission to the keynote or to attend a meet-and-greet with Carville and Matalin.
So please send me your questions! And if you haven't already, to register for ASI Chicago call (800) 546-3300 or visit www.asishow.com/shows/2016/chicago.