With You Every Step of the Way
Thursday August 20, 2015 | Filed under: Community, Guest Blog, News About ASI
Imagine inviting a crew of co-workers into your home for two days from dawn to dusk to shoot a commercial for your company. It happened at my house and, as you can imagine, it was an insanely busy scene, with lights, cameras and action everywhere, from the kitchen and living room all the way to the bathroom and bedroom. It was also insanely fun. The end result is a new ASI video, "Every Step of the Way." Click here to take a look.
The meaning behind the video is simple: Our tools, resources and information are designed for you, the members of the promotional products industry, but our support is really what makes the difference.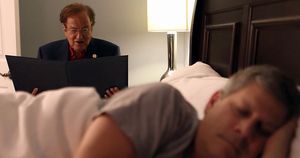 Behind world-class products and services, we have more than 400 dedicated people who want to help you reach your potential and exceed your goals. (No, all 400 of them did not come to my house to make the video, but there were times during the shoot when it felt like they did.)
As talented experts in their fields, each and every one of ASI's employees is here to support you and your business, through ups, downs and really anything that comes your way. We are focused on making you successful.
Your business journey is unique to you. We can't walk in your shoes, but we can walk with you and help you when you need it. Like the new video says, we're here, every step of the way.
I hope you like the video. Either way, I'd welcome your feedback, at rwatson@asicentral.com. Who knows – maybe for our next commercial we'll come to your house.
P.S. You may spot a few familiar faces in our video, including ASI's Chairman of the Board, Norman Cohn (reading the bedtime story), President and CEO Tim Andrews (offering wine) and our products expert, Joe Haley (providing morning-drive commentary). The "star" – who is meant to represent each of you – is Rick Angeloni, ASI's design principal in our marketing department.
– Rob Watson, ASI's senior vice president of marketing and user experience