Update from ASI's CTO
Monday August 3, 2015 | Filed under: ASI Shows, Community, Guest Blog, News About ASI
There are few things more productive than getting together with your peers to brainstorm pressing issues everyone can relate to and learn from, especially when the topics concern new and emerging technology.
That's why I was so happy to host a CTO Summit in conjunction with ASI's Chicago show in mid-July. All told, 14 distributors, partners and suppliers – including SanMar, Brighter Promotions, ASB, Facilis, HALO and Safeguard – spent the day discussing technology, operations and customer service. I was very impressed with the high-level professionals who took the time to attend (our group is pictured below).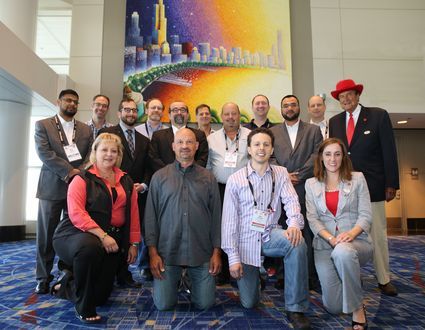 Just about everyone at the summit shares a keen interest in moving this industry forward, especially when it comes to automating and connecting suppliers and distributors for order processing. At ASI, we know how important it is to everyone in our industry to have the latest, greatest real-time product information available at their fingertips.
For the past two years, we've devoted countless hours working directly with the industry's top suppliers to link their databases directly to ESP. By making quick, vital data sharing and communication available across the entire industry, the end-to-end workflow – from product inputting to price quoting to order processing – will be as straightforward and uncomplicated as possible.
The summit's agenda (outlined below) covered a wide range of topics. Hopefully we provided something for everyone. If you need more info on anything, don't hesitate to email me at arafat@asicentral.com:
ASI Case Study: Benefits and Challenges of the Modern Platform Architecture
Right Brain/Left Brain: Keeping Creativity Alive Within User Experience
Technology Challenges from the Perspective of the Distributor
Big Data: How to Tame It and Harness Its Power for Profit
The Perilous and the Profitable: What You Should Know About Outsourcing
A personal highlight for me was hearing from ASI's chairman, Norman Cohn, one of the chief architects responsible for introducing more advanced technology to our industry, starting with the remarkable ESP database – now over 950,000 products strong, and counting. It's always fascinating to recall just how fast and far we've come since the days of CDs, microfiche and rolodexes – and to imagine the possibilities ahead.

This was our third CTO Summit and I'm sure it'll continue as an annual event, so if you missed it this year, stay tuned for info on 2016. The goal is to establish a solid list of technologists we can rely on for input and feedback regarding the myriad of opportunities and challenges facing our ever-changing industry.

To that end, I'd like to especially thank the experts from Macrosoft for sharing their expertise with the group.

If you have any questions regarding any topic we covered – or suggestions for future topics or speakers –please let me know. I'm grateful to everyone who attended and hope to see all of you next year as well.

– ASI CTO Armughan Rafat