Triumphs, Tears and Tips in Chicago
Thursday July 23, 2015 | Filed under: ASI Shows, Community, Members, News About ASI
ASI ended its last major show of the 2015 season with fireworks and fanfare in Chicago, with attendance up nearly 3% over 2014, tons of fun at our new networking clubs and a fast-paced keynote by Denver Broncos QB Peyton Manning.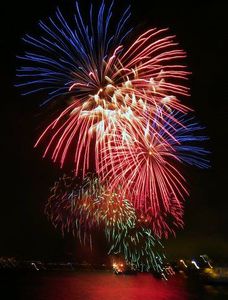 We accomplished so much in Chicago it's hard to re-cap. In the middle of it all, we celebrated winners like The Magnet Group CEO Bill Korowitz (at right) as Person of the Year and Senator's Michael Nick as International Person of the Year during the glittering black-tie 2015 Counselor Awards, which featured spectacular fireworks.
Click here for video interviews with the winners, here for videos shown during the event and here for an album of gorgeous photos (right-click to save any pic you wish).
Although I loved all the speeches (hands down, Bill's was the funniest and, as he warned us, also the longest), I was really touched by Fran Ford, president of Castelli North America, who presented one of the Marvin Spike Lifetime Achievement Awards to ASI's own Ron Ball (below).
"For the past 30+ years, this man has been there for so many of us, helping us grow our businesses, but somehow the light never shined his way," Fran said. "We grew and somewhere behind it all, he stood, never wanting to shine his star! I am so honored to introduce my dear friend… one who has always been there for me and so many others."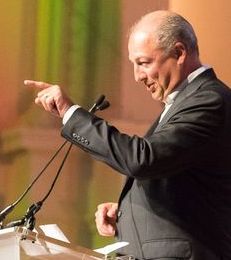 There wasn't a dry eye in the house when Ron went on to thank Fran, the Norman Cohn family and even me. "Thank you for all the support and confidence in me throughout my years of service to ASI and this industry," Ron said. "This is a great way to end the wonderful career I've had at ASI for over 40 years."
Thank you, Ron.
For more on the awards and for our editorial coverage, visit www.asicentral.com. And, click here to read a positive story on the show in the Chicago Tribune (circulation 455,000), featuring ASI's Joe Haley and a number of industry products.
A few more words about Manning: He flew to our show, incredibly, just hours after being honored in Los Angeles with another ESPY Award for Best Record-breaking Performance of the past year.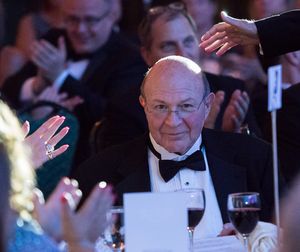 It was a real thrill to meet him, and not just because I'm a Hoosier who remembers when the Baltimore Colts moved to Indianapolis in 1984 after 31 seasons in Maryland (the secret, 600-mile dead-of-night trek is among the most famous sporting moves ever). After struggling for years, the Colts enjoyed their greatest success to date under Manning, the team's starting quarterback from 1998 to 2011.
So, yes, as an Indiana native, I'm a fan.
Luckily, Manning was a nice guy to boot – unpretentious and way funnier (and taller!) than I expected, going so far as to crack a joke in his best New Orleans drawl about buying a bunch of Papa John franchises just before his home state legalized marijuana: "As a guy who sells pizza in Colorado, I can tell you the business is really good there right now."
Anyone who might have wondered what a football player could tell a business audience didn't have to wonder for long. The tips and insight Manning shared during his 30-minute presentation and follow-up Q&A with me (below) were relevant to anyone, whether you own a promo products business or earn millions tossing footballs: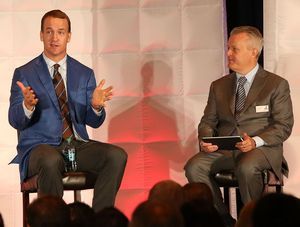 "Your personal, professional journey rarely follows a straight line."
"Don't be stymied by change, be stimulated by it."
"Be a master observer and look for things that aren't evident to your competitors."
"Invest in a coach that can help you continue to grow…When you stop wanting to be mentored, I think you're in big trouble."
"The truth is, many NFL football players retire not because of injuries, but because of monotony."
Traditionally, Chicago is the biggest ad specialty show of the summer – and ASI's very last big show of the season – neither of which will change. ASI remains committed to putting on a great big show in the city of big shoulders in 2016.
We are, however, introducing major improvements for California and New York with our new Engage hybrid format. Engage combines the best of traditional trade shows, intimate hosted buyer events and roadshows. We're very excited about its debut.
Don't forget: Registration for ASI's 2016 ASI shows (Orlando, January 4-6; Dallas, February 9-11; and Chicago, July 12-14) and all our high-profile keynote presentations will be available in early August at www.asishow.com.