Thanks to the Promo Products Community
Wednesday March 4, 2015 | Filed under: Community, News About ASI, Research
I love nothing better than hearing "thank you," especially from a business that's acknowledging how much I mean to them as a customer or client. So I'd like to take this opportunity to send out a great big "thanks" of my own to everyone in the industry who's completed a survey, participated in a focus group or sent me an email. I'd also like to express my appreciation for the over 2,000 ASI members who joined the ASI Marketing Research panel.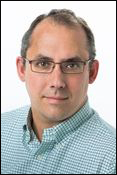 I literally could not do my job as ASI's director of marketing research without help from every one of you.
With the information you so generously provide, ASI is able to prepare and share a ton of important data with the industry. The most important, perhaps, is the input you send us as we prepare for our annual Counselor State of the Industry (SOI) report, a mega-effort we're kicking off this week.
The SOI study helps shape our understanding of the advertising specialties industry as a whole and provides a forward-looking view into what's ahead. The results are always widely shared, in Counselor magazine's special State of the Industry issue, which is dedicated to the study, as well as through numerous citations in newspapers and magazines all year long. In 2013, the issue even won a prestigious Jesse H. Neal Award, considered the Pulitzer Prize of business press – and the 2014 issue (see cover at right) recently was named a finalist for another one.
In addition to loads of stats and graphics, the SOI issue contains info designed to help any sized company plan strategically for the future, grow their business, streamline operations and tap new and emerging markets. Along with winning tips and tactics and growth strategies, the SOI issue also profiles that year's Counselor Award winners – including the Person of the Year – and publishes the revenue and ranking of Top 40 distributor and supplier companies.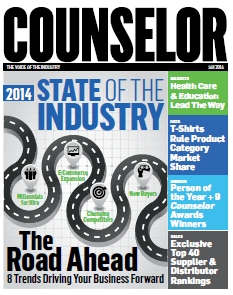 Here's how you can contribute (and earn my sincere thanks once again!):
Counselor is currently polling professionals in the industry – both distributors and suppliers – to find out how the market did in 2014 and to get their impressions on where the industry is headed in 2015. Your input is invaluable. Please take 10 minutes to click the appropriate link below and complete the State of the Industry survey.
To complete this year's Distributor State of the Industry, please click here.
To complete this year's Supplier State of the Industry, please click here.
If you haven't read the 2014 issue yet (available in print and online at www.asicentral.com/soi), please check it out. ASI editorial staffers spend months gathering and analyzing key sales, marketing and operational metrics used by most of you to provide useable info tailor-made for our industry. The accompanying graphics also provide valuable snapshots of what's up, down and trending.
I'd also love to know if there's a topic, trend or strategy we might have missed or not given enough attention to, so please either post a comment or email me at nkucsma@asicentral.com.
Hear that? It's me, thanking you in advance for participating.
– Nathaniel Kucsma, ASI's director of marketing research