Playing To Win In Dallas
Friday February 6, 2015 | Filed under: ASI Shows, News About ASI
Troy Aikman, ASI's keynote speaker in Dallas, had a great excuse for running a couple minutes later than I expected to our show on Thursday: He was dropping his two young daughters off at school, something the 48-year-old dad does every day, no matter what.
It says a lot when a guy worth an estimated $25 million drives his own car, runs his own errands and makes family a priority. The former Dallas Cowboys quarterback even told us his favorite pastime when he's not working as a FOX sportscaster is spending time with his daughters, aged 12 and 13.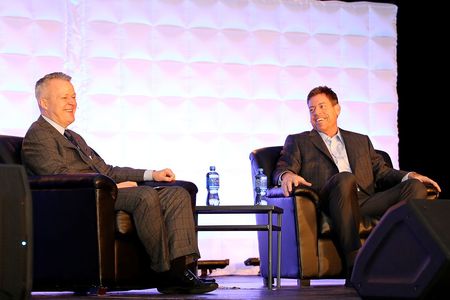 "I don't want to be corny, but I hang out with my girls," he told the 600 people at the keynote at the ASI Show Dallas, which ended Thursday after three days at the Kay Bailey Hutchison Convention Center, attracting 485 exhibitors and 3,435 attendees from 49 states and 19 countries, with distributor attendance up about 4% over 2014.
All told, a record 20 companies chose Dallas to host their sales meetings, an increase of 15% over the previous year. The show also attracted 270 female-owned and 230 minority-owned businesses, which I was very happy to see.
Aikman was not what I expected. When we first met backstage in the green room he seemed low key and almost subdued. But once he got on stage, he really came to life, telling fascinating and often funny stories about growing up in California and Oklahoma, where his family raised cows, horses and chickens on 240 acres.
I always find that when you ask someone about their upbringing, you learn fascinating things. In Aikman's case, even though he took one of the most successful teams in the history of the game to the Super Bowl three times, he came off confident without being arrogant. That's an admirable trait a lot of successful people can't manage to pull off.
He also offered some insight into the Cowboys as an organization, and the tough but fair leadership of former Dallas Coach Jimmy Johnson, who told him, "You don't coach a player to what he is, you coach him to what you want him to be."
Aikman expected his teammates to know their roles and treat professional football like the job it is. "People get fired for not knowing their assignments in the real world," he said. "My job as quarterback was to do whatever it takes to win."
Surprisingly, football wasn't Aikman's first choice. In high school, he also played baseball and basketball and only signed up for high school football so he wouldn't disappoint his father. Even as he racked up success on the playing field in college and with the Cowboys he never stopped working hard.
Even his rookie season with the Dallas Cowboys, when the team won only a single game, taught him a valuable lesson. "It served me well later in life," said Aikman. "I never forgot how hard it is to win. I never forgot what it was like to lose a game."
Not surprisingly, he said, "My career surpassed my wildest dreams. I can't complain at all." How many among us can say that – and mean it?
For complete coverage of the show, including blogs, photo and videos, visit www.asicentral.comand www.asishow.com. And, search for our hashtag, #ASIDallas.
Upcoming 2015 ASI Shows are Long Beach (March 24-26), New York (May 5-6) and Chicago (July 14-16). To learn more about exhibiting or sponsorship opportunities for 2015, contact Karen DiTomasso, vice president of sales, at kditomasso@asicentral.com.