Inspiration and Motivation at ASI Long Beach
Thursday March 26, 2015 | Filed under: ASI Shows, Community, Education, Members, News About ASI
ASI's Long Beach keynote speaker Jillian Michaels – an internationally known fitness expert who single-handedly built a healthy-living empire – was as down-to-earth as a friendly neighbor. While waiting backstage, she kicked off her high heels and showed our crew pictures of monarch butterfly caterpillars from her Malibu backyard.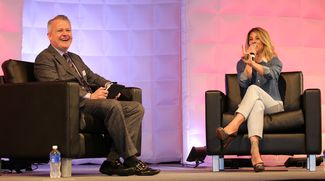 She's only 5-foot-2, but she radiates presence. And, she was so beautiful up close I was nearly mesmerized. Can you tell how much I enjoyed our on stage conversation? Right from the start, she enraptured our audience with her personal story of being an unhappy, overweight teenager who was bullied in school and yet managed to overcome it all, thanks in great part to her family's support.
"As a kid, I was lucky enough to have two people who really believed in me," she said. "Having people who support you and who believe in you is really critical."
Through hard work and determination, along with a strong mentor and helpful clients, Michaels established a huge personal brand and starred in a hit reality TV show. I bet everyone who heard her positive, inspiring message left motivated to make changes in their life and in their business. I know I did.
Our conversation was a highlight of the ASI Show® Long Beach, held Tuesday, March 24, through Thursday, March 26, at the Long Beach Convention Center. Our show attracted 203 exhibitors and 1,643 distributors from 925 companies from 31 states and three countries. I was very happy to hear that the show also attracted 126 women-owned companies and 114 minority-owned companies.
For more on the show, recaps of education classes and to see pics, visit our Facebook page and www.asicentral.com.
We got great feedback from attendees like Rob Cunningham, of Uniflex (asi/92480), who said he really enjoyed the show. "We've had a lot of good traffic and great sales conversations with distributors."
To me, that's what it's all about: making connections.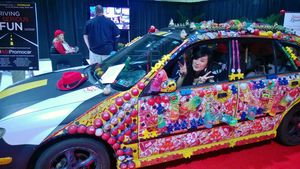 Distributor Bob Lewellen, of Kaeser & Blair (asi/238600), told us his company likes holding meetings in conjunction with ASI shows because they present good opportunities to meet face-to-face. "Our dealers like to come to the show so they can get product ideas and find new suppliers to do business with," he said. "Plus, all of our dealers attend education – there is always something to be learned. The seminar choices give you a chance to focus on what's important to you."
There were lots of opportunities for fun, too, from networking events like dinner at Gladstone's restaurant, to paddle boarding and beer tasting at our new networking clubs.
Hundreds of people also visited the ASI Promocar, a Mazda Protégé we covered inside and out with hundreds of promotional products donated by ASI suppliers. The Promocar (hashtag #ASIpromocar) is part of an ASI PR campaign called "Driving Serious Fun," designed to drive attention to $21.5 billion promotional products industry and to spread the word about the industry's creativity and ingenuity.
After Long Beach, the Promocar sets off on a 2,700-mile journey across 12 states. Make sure to follow the car along the way through pics and blog posts on Facebook, Twitter, Instagram and on ASI's website, www.asicentral.com. The car already has 190,000 miles on it, so wish us luck!