Congrats to a Winning Team
Tuesday April 21, 2015 | Filed under: News About ASI
At a time of transition across the publishing spectrum, it's a vote of real confidence for ASI® magazines to win a record three Jesse H. Neal awards – the B-to-B equivalent of a Pulitzer Prize.
At ASI, we're proud of consistently producing compelling, exclusive, original content. It's a commitment we made to our 250,000 print and online readers from the start. Happily, the Neal Award judges concur, honoring Stitches® magazine with two Neals and Wearables® with one. In addition, Stitches, Counselor® and Advantages® magazines were named finalists for seven more Neal awards in a stiff competition that attracts top publications like Architectural Record and Advertising Age.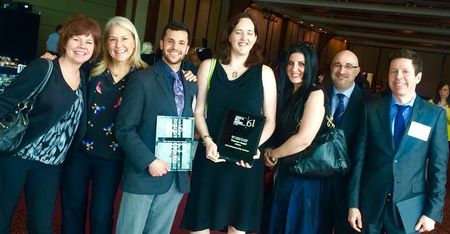 Like most people, I love winning. It's great for our team's confidence and we always enjoy partying together at the ceremony.
But what's especially gratifying is that the judges recognized ASI's commitment to a very broad skill set, honoring traditional long-form journalism as well as multi-platform packages with a strong social media component. These days, it's critical for magazines and websites to interact with their online audience – a skill that comes easily to our writers and editors (especially the ones with a quick wit!).
Stitches senior writer Theresa Hegel, an award-winning journalist from Emmaus, PA, won for overall reporting as well as for her cover story "Can This Shop Be Saved?" Instead of giving readers a typical-but-sufficient story on yet another troubled business, Stitches went way above and beyond and sent Joyce Jagger, aka The Embroidery Coach, to Wisconsin for two days to help an embroidery shop turn itself around. Learning how Jagger whipped this business into shape should appeal to any business looking to improve.
C.J. Mittica, editor of Wearables magazine, took home a plaque in the category of "Best Subject-Related Package" for his story, "The T-shirt That Thinks," which zeroed in on an industry-specific subject that's breaking the apparel world wide open. As C.J. wrote: "Smart wearables will radicalize the branding capabilities of apparel. They'll position information at our instant beckoning. They will literally tell us how we should live. With enough time, the tech will burrow so deeply inside the garments that the category of wearable technology won't exist anymore. There will only be clothing."
In less than 10 years, ASI magazines have been honored with over 140 journalism awards and remain the only industry publications to ever win a Neal Award. Our grand total for Neals alone is now nine wins and 17 finalists.
Under Editor-in-Chief Melinda Ligos and Publisher Rich Fairfield, our magazines have become the ones to beat – something the competitor in me enjoys to the hilt.
In the pic above, from left: Advantages Editor Kathy Huston, Melinda Ligos, C.J. Mittica, Theresa Hegel, Stitches Editor Nicole Rollender, Counselor Editor Andy Cohen and Rich Fairfield.