Build a Better Company
Tuesday October 13, 2015 | Filed under: Members, News About ASI
Until recently, very few companies gave much thought to their "corporate culture." How times have changed. Now, smart companies go out of their way to ensure employees maintain a proper life-work balance and that they're as happy as they are productive.
As studies have shown, unhappy workers goof off more and are less motivated. But if you reward them with decent pay, good benefits, meaningful work, flexible schedules and occasional breaks from the daily grind, your reward is often higher profits.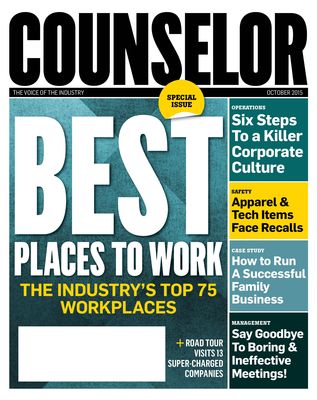 How different companies meet and often exceed employee needs and expectations is at the heart of our Counselor Best Places to Work issue, now in print and online. The annual issue lists the 75 best places to work (as voted on by employees) in the promotional products industry, along with profiles of several winning companies and info on creating a great workplace, from motivating employees and retaining top talent to creating unique jobs and celebrating staff accomplishments.
Florida-based supplier The Book Company (asi/41010) scored the number-one spot. The 16-employee company, of Delray Beach, was founded by Doug Greenhut and supplies blank and customized books.
I expected to see a passion for books and extraordinary service and support encouraged in a list of corporate beliefs, but was delighted to also find celebrating success, taking a break and walking a dog earn merit. No wonder surveyed employees cited the company's refreshing flexibility and fun, laid-back atmosphere as key ingredients of a winning corporate formula.
As Counselor editors and writers discovered during their research, which included a summer road tour to personally visit some of the top companies, "great places to work aren't built by accident. They are the product of conscious and thoughtful planning."
I encourage you to read the entire issue and consider what practices might fly at your own workplace. Here are just a few examples to get you thinking:
Stran Promotional Solutions (asi/337725), of Quincy, MA:
Hire self-motivated employees who are independent thinkers and allow them to make their own decisions.
Adopt a laid-back culture with a casual dress code.
Eat lunch together every day en masse and work together to get the job done.
Mercury Promotions & Fulfillment (asi/267770), of Sterling Heights, MI:
Adopt a transparent and communicative culture. Hold meetings where employees can ask any question they want and share financials.
Build camaraderie by creating regular outings for all employees and encouraging an open-door policy.
Tangerine Promotions (asi/341609), of Northbrook, IL:
Encourage employee referrals to bring in qualified candidates.
Offer a wealth of perks to engender loyalty and reduce turnover, like rewarding top salespeople with a trip, offering work-from-home options and every other Friday off during the summer.
To see the complete list of 75 companies and to read the Best Places to Work issue, click here.

Have an idea or perk that's paid off at your company? Share it by leaving a comment.