Big Fun in the Big Apple
Monday May 11, 2015 | Filed under: ASI Shows, Community, Members, News About ASI
Shark Tank investor Barbara Corcoran is a pip. I just love her, and so did our audience at the ASI Show® New York. Corcoran, ASI's keynote speaker, shared a ton of unlikely insider business tips, while dishing out fascinating personal tidbits about her life.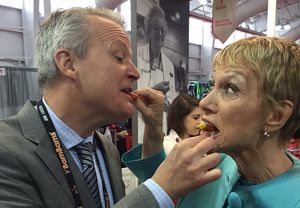 She was raised by incredibly loving, supportive parents in a small New Jersey town, in a house with one bathroom and 10 kids. Growing up, Manhattan loomed right across the Hudson River, as foreign and unattainable as Oz. But by the time she was in her 20s, she was taking the town by storm, eventually building a $5 billion real-estate empire. What a story!
She attributed her success, in part, to her imagination. When she was a kid, "I found I could put a ribbon on a rock and that kids would pay you for that rock."
Although she's almost 70, you wouldn't know it from the way she raced around the show floor after the keynote, taking pictures and checking out the products. She stopped by Showdown Displays (asi/87188), our keynote sponsor, and took a photo with the entire team. And when she was told Showdown didn't sell direct, always choosing to work with a distributor, one savvy distributor stepped right up and handed her his business card, which she tucked into her purse.
As you can see from the photos, she had a lot of fun at our show, goofing around at the hotdog stand and getting her pic taken at the ASI Promocar. As she says, "Fun is good for business."
Personality and spirit she has in spades, along with incredible talent. No wonder she's a success story.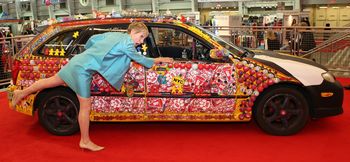 To me, the best part of any show is learning similar stories about our members, finding out how they built their business, who mentored and supported them, and how they handle adversity. In her speech, Corcoran said she always watches new hires to see how soon they recover from failure and whether they indulge in pity parties. To her, "failing well" is a sign of strength.
She also applauded everyone in the audience of nearly 300 for being small-business owners. "It's a fabulous act of the universe to actually be in business for yourself, having nobody tell you what to do," Corcoran (@barbaracorcoran) said. "Congratulations for having the guts to run your own business."
I think everyone enjoyed the keynote – and the two-day New York Show, which attracted 175 exhibitors and nearly 1,600 distributors from 32 states and seven countries. I'm happy to report the show also drew 141 female-owned and 120 minority-owned companies, along with 97 businesses based in New York City. And, 11 companies also chose ASI's show to host their sales meetings.
We got great feedback from the likes of distributor Brian Dawson, of EmbroidMe.com (asi/384000), who said his company loves holding its regional meeting at the New York show. "It's a valuable way for us to expose our franchises to the promotional products world," he said. "We speak with our vendors, look at different opportunities, what's new and what's awesome in the market. It's just a great time to meet and learn more about the business."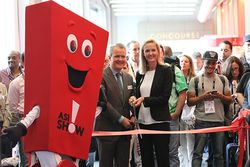 In addition to working hard, we played hard in Manhattan, too, staying out way too late at the Counselor® Hot 25 party, held this year at Dream Downtown, with jaw-dropping views of the city. We celebrated 2015's hottest product design and best ad awards, products and 10 fastest-growing suppliers and distributors.
Kathy Cheng, president and owner of Toronto-based Redwood Classics Apparel (asi/81627), took the top spot on this year's Hot List. Click here for Counselor's 2015 list of the industry's hottest, most innovative game-changers.
And, for complete coverage of the show, including stories on education, visit www.asicentral.com and www.asishow.com.
Hard to believe, but the last show of the season – Chicago – is just around the corner, July 14-16, featuring a keynote by Denver Broncos quarterback Peyton Manning. If you haven't already, contact Karen DiTomasso, ASI's VP of sales, at kditomasso@asicentral.com, about sponsorships or exhibiting.