Windy City Wow
Thursday July 17, 2014 | Filed under: ASI Shows, ASICentral, Community, Member Benefits, Members, News About ASI
ASI celebrated its 15th anniversary of hosting a national trade show in Chicago in a very big way. This show had it all: art, commerce, education, networking and, above all, fun and flair.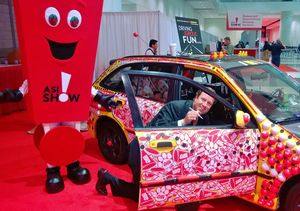 The show featured 50 education sessions, leading suppliers, 22 team-building distributor sales meetings and a multimedia keynote by graffiti artist, entrepreneur and motivational speaker Erik Wahl on using creativity to supercharge your potential.
Go to www.asicentral.com for complete coverage of the show, including blogs and videos from ASI's ace on-site editorial team.
To me, innovation was the word of the day on a bustling show floor. I saw tons of new packaging ideas, along with some traditional decorating techniques applied to new products. And, everyone seemed to really benefit from the new Signage + Decoration pavilion and the two days of demos inside. After seeing the techniques, I'm sure distributors will gain a new appreciation for the decorating suppliers do for them.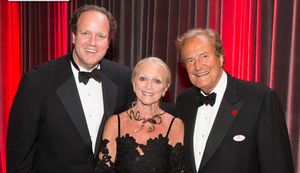 The feedback from the Erik Wahl keynote was also tremendous. He actually painted right on the stage and spoke about the importance of creativity to business – which are not two words most of us use together in the same sentence. But it makes sense to think outside the box for inspiring ideas.
I think my favorite part of the show was the heartfelt speeches made by winners at Wednesday night's 2014 Counselor® Awards. I especially loved the speech by Gary Hellinger, of Gary Plastic Packaging Corp. (asi/55990), who won the Marvin Spike Lifetime Achievement Award. ASI Chicago was the very first trade show he's ever been to. And I almost choked up as he described his operation in the South Bronx, where he has 600 employees working three shifts. What a sweet guy.
At the ceremony in the very cool Museum of Broadcast Communications in Chicago we also announced the Top 40 Distributor and Top 40 Supplier rankings – the largest companies in the industry based upon 2013 revenue. For more info, go to www.asicentral.com. For the complete list, click here.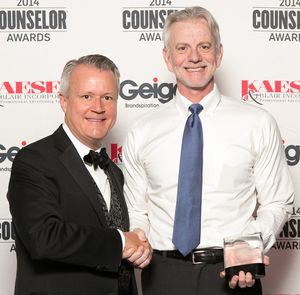 Our Counselor Person of the Year, Norman Hullinger, CEO of alphabroder (asi/34063) (pictured with me, right), was loudly applauded by his team members for expertly guiding the company through an unprecedented period of change, acquisitions and re-branding. As I said during my speech, talk about daring!
Throughout the show, it's been great to talk to people and to hear how bullish they are on the second half of the year. Suppliers and distributors alike are very positive on our industry and are looking forward to a stronger finish than ever.
ASI Chicago took place Tuesday, July 15, through Thursday, July 17, at McCormick Place and featured 750 exhibiting companies – including numerous Counselor Top 40 suppliers and 105 exhibitors new to Chicago this year. Total distributor attendance was more than 4,300, from distributor firms based in 42 states and eight countries. The show is the largest ad specialty trade show of the summer.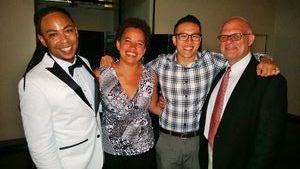 The reviews were excellent:
"We have about 30 salespeople here," said Michael Giachetti, of Standard Register (asi/333647). "We attend all The ASI Shows® because it's the perfect way for our local and regional teams to take advantage of ASI Education, spend time with our diamond partner sponsors and visit with a wide variety of suppliers. ASI is a wonderful partner."
Jason Christianson, of JC Imaginations (asi/234328), said, "ASI Chicago has been great. I came looking for new, innovative items for schools and colleges and I found tons."
"Being at ASI Chicago is the perfect way to show our technology to ASI members," said Randy Paar, of Canon Solutions America (asi/14976). "A lot of other industries that are using traditional printing methods, like screen printing, are moving in this direction. This technology really opens up the types of applications that the promotional products industry can supply the end user. We're impressed with the show and are glad to be part of the Signage + Decoration Pavilion."
One of many special benefits ASI members could take advantage of included free education, which featured strategic sessions on scoring sales as well as a new Screen-Printing Success Track, part of ASI's new relationship with ST Media, sponsored by Workhorse Products. We also unveiled the new Signage + Decoration Pavilion, produced in partnership with ST Media, featuring well-known equipment companies and live education allowing attendees to explore niche sales ops and speak to experts in potential new markets.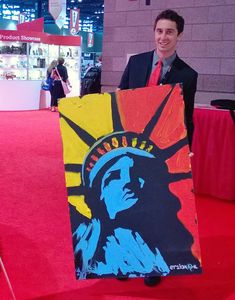 Exhibitors were delighted with the show because it gave them a terrific opportunity to display their latest, greatest products, talk to numerous distributors and discuss creative ad campaigns. Jennifer Grigorian from Hit Promotional Products (asi/61125), said, "The ASI Shows deliver very good traffic. We always leave with new relationships and really benefit from spending one-on-one time with our customers."
The show also featured the debut of the #ASIpromocar, an "Art Car" decorated with a variety of promotional products donated by ASI suppliers and driven 750 miles from ASI headquarters in Philadelphia to the show, where it was on display and available for people to sign and get their photo taken.
The car is intended to drive attention to the creativity and ingenuity in the promotional products industry, and it was a big hit. I sure hope everyone got the chance to see it – and to sign it! (See ASI's Matthew Cohn signing at top). Now, all we have to do is drive it safely back to ASI headquarters outside Philly. I'm very happy to report we only lost a single pen during the drive out. I'm now taking bets on how many we'll lose on the trek back.
Although this was the last big national show of the year, ASI is already preparing for 2015. Registration for the 2015 ASI Shows opens July 19 at www.asishow.com. The line-up is:
ASI Orlando, January 4-6, Orange County Convention Center
ASI Dallas, February 3-5, Kay Bailey Hutchison Convention Center
ASI Long Beach, March 24-26, Long Beach Convention Center
ASI New York, May 6-7, Javits Center, North Pavilion
ASI Chicago, July 14-16, McCormick Place.
An unprecedented roster of business and leadership trailblazers includes Steve Wozniak and Peyton Manning. For information on exhibiting or sponsorship opportunities, contact Karen DiTomasso, vice president of sales, at kditomasso@asicentral.com.