Taking the Industry's Pulse
Wednesday August 6, 2014 | Filed under: News About ASI, Research
To most people, summer means family road trips, zeppelin-sized zucchini, backyard barbecues and lightning bugs. Here at ASI, summer means all that and more, since summer is when we produce our annual State of the Industry report.
While it doesn't yet come with a free umbrella drink, Counselor magazine's industry MRI does pack a ton of info designed to help any sized company plan strategically for the future, grow their business, streamline operations and tap new and emerging markets.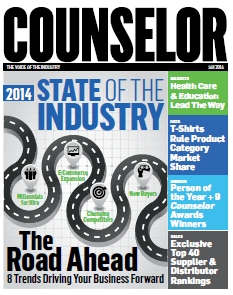 If you haven't read the issue yet (available in print and online at www.asicentral.com/soi), take a hard copy with you to the beach or check it out electronically on your device. ASI editorial staffers spent months gathering and analyzing key sales, marketing and operational metrics used by most of you to provide useable info tailor-made for our industry. The accompanying graphics also provide valuable snapshots of what's up, down and trending.
Click here to read the report in its entirety.
As a whole, 2013 was a good year, with distributors growing sales by 5.7% to reach a record $20.5 billion. The 40 largest distributor companies in the market hit nearly $4.4 billion in sales, accounting for 21.5% of total industry revenues.
It seems that the top 40 suppliers and distributors are exerting growing influence over the marketplace.  Counselor's editor, Andy Cohen, goes so far as to predict apparel suppliers will continue to consolidate and large distributors will create unique partnerships the likes of which the industry hasn't seen before. As Andy says, "If you can't beat competitors, join 'em!"
But there's still room for nimble and innovative distributors and suppliers of all sizes, and obviously our industry is an exciting place for everyone.
The data also shows the profit pressure distributors face and customer trends that include more price shopping, more interest in additional services and more safety and compliance inquiries.
Our predictions for the industry's future? While product staples like T-shirts and pens will remain strong, sales of branded technology items like USB cards should increase dramatically in the near future as more millennials enter the workforce. The average order time for suppliers will significantly decrease in today's "need it now" marketplace, and 90% of the top 40 apparel suppliers will offer in-house decoration in five years.
In addition to winning tips and tactics and growth strategies, the SOI issue profiles the 2014 Counselor Award winners – including Person of the Year Norman Hullinger – and includes revenue and ranking of Top 40 distributor and supplier companies.
I'd love to know what you thought of this year's issue and if there's a topic, trend or strategy we might have missed or not given enough attention to, so please either post a comment or email me here. I'm also on Twitter and LinkedIn.