Swimming with the Sharks
Friday April 4, 2014 | Filed under: ASI Shows, Media Coverage, Members, News About ASI
Shark Tank judge Daymond John blew the crowd away at ASI's New York show. His rapid-fire presentation – chock full of personal stories, funny anecdotes and frank business advice – engrossed an overflow crowd of over 500. There were so many people that, for the first time ever, we had to set up chairs outside in the hallway.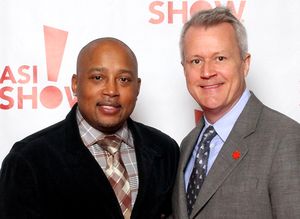 Audience member Albert Galimidi, of Allegra Print & Imaging (asi/372155), put it best: "Daymond lit the stage on fire. He shared so many important points and inspirational stories. The best advice he gave was 'just keep swimming. Times get hard for all of us, but if you keep swimming you'll get there.' "
Unfortunately, I grew up in Indiana and never learned to swim, but so far so good! What I liked best about John (pictured at right) is how down to earth he is – just like so many people in our industry who also grew a successful business from nothing.
In a word, The ASI Show™ New York rocked.  The two-day show took place at the Javits Convention Center, Thursday, April 3 and Friday, April 4. The show was so hot, it attracted a ton of media attention, including MSNBC's Your Business program and Fox 5 News, which interviewed ASI's own Matthew Cohn.
Friday, ASI's products expert, Joe "The Joe Show" Haley, took boxes of the industry's coolest products to Fox TV's Good Day New York morning show studios, where he held his own on camera alongside anchors Rosanna Scotto and Greg Kelly (pictured with Joe). Greg liked the tee shirt cannon Joe brought to demo so much he shot tee shirts all over the studio. ASI will post links to all TV coverage on its website next week so be sure to check back.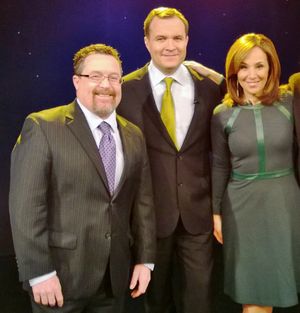 The "hot" theme continued through to Counselor magazine's annual Hot 25 party, held this year at the very swanky, uber cool rooftop club at the Gansevoort Meatpacking hotel, featuring a jamming DJ along with stunning views of New York City landmarks like the Empire State Building. Click here for Counselor magazine's list of the industry's hottest, most innovative game-changers.
And for more coverage of ASI New York, visit www.asicentral.com and the ASI Show Facebook page.
All told, the NYC show attracted over 1,900 distributors from as far as Switzerland and Trinidad and Tobago, and 220 suppliers showcasing their newest ad specialty products for the second half of the year. The reviews were rock solid:  "ASI New York has been great," said Cynthia Weaver, of Polished with Etiquette (asi/296807). "The products I found are going to not only grow my current business but allow me to break into new markets. The ASI Show gives business owners the unique opportunity to find fresh and new ideas to bring back to our clients."
"The show has been very good," said Louis Massaro, of Cooler Graphics (asi/80345). "We gathered many great leads and have been able to spend valuable time with our existing clients. The best thing about the show has been the quality of the attendees." Pete Nutty, of Showdown Displays (asi/87188), added: "ASI New York has been fantastic. Everyone should be at this show."
We kicked off the action Tuesday and Wednesday at the Javits Center with our invitation-only hosted buyer event, fASIlitate, featuring productive, one-on-one meetings between leading distributors and some of the industry's most sought-after suppliers. Owen Zibrak, of Ecocentric Brands (asi/51443), said: "We met some great people and made valuable business connections. Each of the individual meetings we had today were a success. We will definitely be doing future fASIlitates!"
There's still time to get in on the action: The next upcoming 2014 ASI Show is Chicago (July 15-17). To learn more about exhibiting or sponsorship opportunities for 2014, contact sales VP Karen DiTomasso at kditomasso@asicentral.com.
And if you were in New York, please let me know what you thought of the show by posting a comment or e-mailing me here. I'm also on Twitter and LinkedIn.