Steal This Study
Thursday October 16, 2014 | Filed under: Community, Member Benefits, News About ASI, Research
It's here: ASI's groundbreaking global research report packed with stats and graphics to help you convince customers to spend more of their marketing moolah on promo products.
Click here for a quick, catchy YouTube video on the study and here to ASI's 2014 Global Advertising Specialties Impressions Study in its entirety.You'll also find easy-to-understand graphics to save and share. I encourage you to post the video and the study link (www.asicentral.com/study) on your own business website to further spread the word about the incredible power of promo products.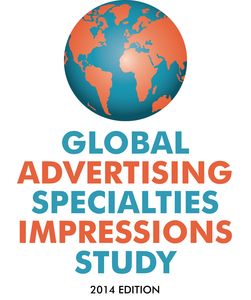 The strongest number to tout is promo products' commanding advertiser recall among 85% of consumers surveyed. People really remember the advertiser on logoed items, largely because they see or use them nearly every day.  In fact, most people own about 10 items they generally keep for seven months.
Can you remember a single advertiser from the last time you watched TV? I'm betting you can't. Perform this simple test on your next potential customer and you just might score a sale.
ASI conducted its first comprehensive research study in 2006. In a nod to our increasingly global marketplace, this year's study contains far greater global reach, and features several differences worth noting. For the first time we:
Conducted all interviews face-to-face, versus a mix of in-person and online
Focused on Europe as a whole
Polled end-buyers in Mexico
Emphasized regional and country-by-country trends and differences.
This year's data updates prior years' reports by expanding interviews into two cities in Mexico (Monterrey and Mexico City) and several additional mid-major markets: Tampa, Charlotte, Minneapolis, Denver and San Diego.

Through conversations with real people who get, use and share ad specialties, we gauged the reach of products, consumer's perceptions, their influence on buying decisions and their influence on the perception of the advertiser.

After thousands of interviews with businesspeople and students in key cities across North America, Canada, Europe and Australia we can say with certainty that ad specialties are one of the most high-impact, cost-effective advertising mediums around.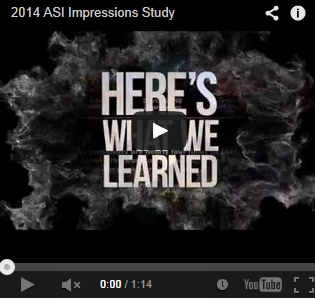 And, since knowing the likely recipient of products is paramount for an advertiser, we made sure to include demographic information broken down by political affiliation, ethnicity, gender, age and income.
What's most impressive is that no matter where we polled consumers, we found end-buyers who feel good about the brands on promo products they use day in and day out. When's the last time an annoying TV or radio commercial made you feel good? I rest my case!
Another conclusion that resonated with me: First and foremost, consumers want products that are useful, like pens and USB drives. In Canada, 82% of consumers polled said that's why they kept branded items, the highest percentage of any country.
The study is a living document that's meant to be used – not scanned once and forgotten. It's powerful data you can, and should, refer to again and again. Cherry-pick graphics that work best for your business and post them, share them and pass them out on sales calls.
Let me know how you plan to use this study in your business by posting a comment, emailing me here or posting to ASI's Facebook page. I'm also on Twitter and LinkedIn.