Red Hot Orlando Beats Arctic Cold
Wednesday January 8, 2014 | Filed under: ASI Shows, Community, News About ASI
Despite near-record cold and the lingering effects of a horrific snowstorm that caused numerous flight delays, nearly everyone arrived at ASI Orlando in fine spirits, energized and raring to hit the show floor. Along with the stars of the ABC hit reality TV show competition Shark Tank, the first show of the 2014 show season attracted over 5,600 distributors from 27 countries and nearly every state in the union.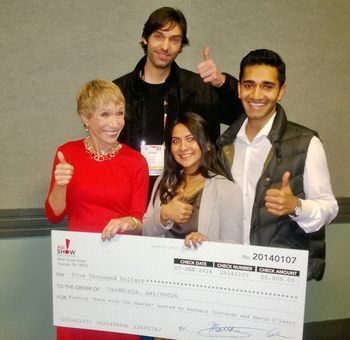 The suppliers, distributors and decorators I spoke to are very bullish on 2014 and heartened by preliminary ASI research showing record industry sales of over $20 billion for 2013.
The crowd included 805 suppliers (with 130 brand new to Orlando!) and numerous Counselor® Top 40, along with 20 distributor sales meetings. Lee Feinstein, from Bodek & Rhodes (asi/40788), described his booth as a "mob scene," which is the ultimate compliment.
The event, which took place Sunday through Tuesday at the Orange County Convention Center, showcased thousands of the hottest products in the industry and featured a full slate of networking events, all-day education and a jam-packed show floor.
The highlight for me was Tuesday's live Shark Tank-style "pitch slam" between four innovative entrepreneurs vying for a $5,000 cash prize for the industry's top new promotional product, with our own vice-chairman Matthew Cohn as co-host. I was impressed by the professionalism of self-made tycoons Barbara Corcoran and Kevin O'Leary, who judged the competition.
Supplier Card Ninja (asi/95026) took home the big check after dazzling the judges with an innovative card-holder that sticks to the back of cell phones. "You have a phenomenal product," Corcoran said. "I'll offer you $10,000 right now for 30% of your company." The winners, pictured at right with Barbara, are company co-founder Sunder Jambunathan (at far right), Rupa Mohan (center) and Christopher Page.
Later, the judges – who bicker onstage like an old married couple – told me they were thrilled to appear before a cheering crowd of genuine entrepreneurs instead of the boring executives they normally speak to during similar corporate events.  Best yet, they loved our industry.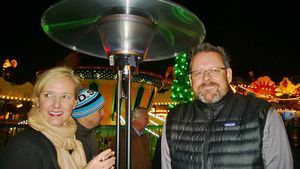 "It definitely works," Kevin told a reporter from the Orlando Business Journal who interviewed him after the event. "This industry has grown every year. And as a business model, it works."
The greatest advice he could offer entrepreneurs is to watch cash flow. "The lifeblood of a business is cash," Kevin said. "People run out of it too quickly and that's the reason most small businesses fail."
Judging by the line that started outside the keynote at 7:30 a.m. and the standing-room-only audience of nearly 1,200, the hyper-interactive event was a huge hit for everyone involved. And I'd like to especially thank our other competitors: SSAM Sports, who showed off their "Putterwheel" golf product; BamBams, with "WeLuvABanner"; and Semco/Americraft, with the "Gap Stick."
I knew this crowd was party hardy when I saw the attendance numbers for our gala celebration at Disney's Animal Kingdom: 1,900 people braved near-record cold to enjoy thrill rides, a DJ dance party and tons of meeting and greeting. In the pic at right, ASI Show's new VP and general manager, Rita Ugianskis-Fishman, wards off the chill at a heat lamp with exhibitor and screen printer Jeff Nieball, of N Designs in Fayetteville, TN. Rita really hit the ground running – she started her ASI career this week in Orlando and I'm sure you'll see her at our upcoming shows so please say hello.
The celebrations continued during the annual Counselor Distributor Choice Awards, which applauded winners in 60 different product categories. Seattle-based iClick (asi/62124) was named 2014 Supplier of the Year. As I said in my congratulatory speech, "I think the real reason iClick is tonight's winner has a lot to do with founder Lon McGowan's mantra: 'Do whatever makes the distributor look good.'"
To see the complete list of Counselor Distributor Choice Awards winners, click here. And for complete coverage of the show, including blogs and videos, visit www.asicentral.com.
The year is off to a great start. Upcoming 2014 ASI Shows are Dallas (February 4-6), Long Beach (March 25-27), New York (April 3-4) and Chicago (July 15-17).
As always, I'm interested in what you think of our shows, so feel free to post a comment or e-mail me here. I'm also on Twitter, LinkedIn and YouTube.