Promo Power 101
Monday April 28, 2014 | Filed under: Community, Education, Guest Blog, News About ASI
Tom Athan is a college student who produces and sells a clothing line called Dudz from his dorm room (imagine low-slung, custom-made M.C. Hammer-style lounge pants for guys and girls in a kaleidoscope of colors and patterns). Athan was unsure how to advertise his apparel cost-effectively – until he learned about the power of promotional products. Now, he plans to invest in a small run of screen-printed T-shirts, bumper stickers and magnets to spread the word about his quirky brand.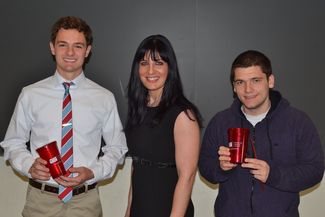 Athan was among 50 business students who attended a lecture Counselor Senior Editor Dave Vagnoni and I gave at The College of New Jersey in Ewing, N.J. Tammy Dietrich, assistant dean of TCNJ's School of Business, invited us to discuss the $20.5 billion promotional products industry as part of the school's Sophomore Colloquium spring seminars, which teach students about different industries to broaden their knowledge about potential internships, future careers and smart business ideas.
Dave and I presented key findings from ASI's Global Advertising Impressions Study, surprising students who were unaware how much bang for the buck businesses can get from promo products. The most impressive stats? That 86% remember the advertiser on a promo product they receive and that the cost-per-impression is only about half a cent – cheaper and more effective than primetime TV ads, print ads and billboards.
Anthony Paun, a finance major who attended the session, said, "Today I learned that people keep a large quantity of the promotional products that they get, and the return on investment is way better in comparison to TV advertising."
Our session was informative, fun and interactive – we gave away candy and logoed products to students who shouted out correct answers to our pop quiz questions – and we think our content was a big hit.
"There's no substitute for students hearing directly from industry experts and realizing the many facets of a business they only knew a fraction about," Dietrich said. "The School of Business is so grateful to ASI for participating in our spring 2014 series and providing students with global insight into the ad specialties world. Students love getting freebies as well as creating them for their clubs and organizations, but had no idea of the magnitude of this business."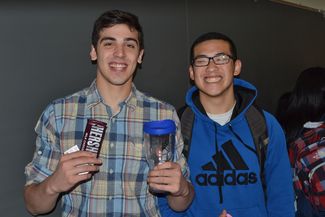 As it stands now, though, the advertising specialty industry is too invisible to business students. They learn about buying and using TV, radio and Internet advertising, direct mail and everything else under the sun, but marketing programs rarely mention the power of promotional products and their incredible ROI. That's why ASI is focused on outreach to colleges and universities to teach students about our industry and the power of advertising specialties in marketing campaigns – as well as explaining how to become a distributor and build your own business.
ASI's long-term hope is that these future business leaders will look to our industry when embarking on their careers. We plan to continue outreach to convince other business, marketing, advertising and new media students to join what we all know is an exciting, creative industry, which more people need to discover.
Dietrich thanked us with a wonderful compliment: "As a bonus, Nicole Rollender and Dave Vagnoni make an engaging team and we hope to have them back at TCNJ."
We'd love to return!
– Nicole Rollender is ASI's executive director of professional development
In top pic, TCNJ students Tom Athan, co-founder of Dudz, and Robert Garavente with ASI's Executive Director of Professional Development Nicole Rollender, with their new ASI branded tumblers. In bottom pic, TCNJ students Anthony Paun and David Chao are all smiles after winning logoed promo products and candy.